McKibbin Media Acquires WCSR-AM/FM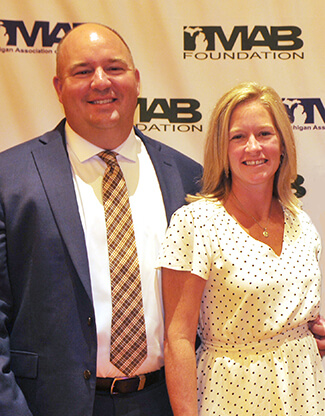 After closing on the purchase of Bruce and Sue Goldsen's Jackson Radio Works' stations on December 16, Jamie and Katina McKibbin and their McKibbin Media Group have announced the purchase of WCSR-AM/FM (Hillsdale) from longtime second-generation owner Michael Flynn.  WCSR has been in the Flynn family since 1961.
McKibbin, speaking to the Hillsdale Daily Reporter, said, "I grew up listening to WCSR as a kid, and the voice of Tony Flynn, who recently passed away, and Mike and Bob and Park Hayes.  Even though I never worked at WCSR, those guys are the reason I'm doing what I'm doing today. I knew at a really young age that I wanted to do radio. They had a very strong influence on me growing up."
Flynn said the decision to part with WCSR wasn't easy. It was predicated, he said, on conversations he had with his father, radio legend Tony Flynn, who died in January. 2019.  ″[My father] and I had talked for the last three years before his death about how long I wanted to continue to run the business," Flynn said. "At some point when I decided I no longer wanted to do that, we were going to sell the station — and that time is now." Flynn said it was important to him to find a new owner that would continue to invest in the station and the community.
McKibbin says his plan is to keep the local focus WCSR has now and build on the Flynn family's legacy.
The sale was filed with the FCC December 23 and should close in the next two months.