4 Lessons for Radio Companies At CES 2020
By: Seth Resler
Jacobs Media Strategies
Every January, the Jacobs Media team heads to Las Vegas for CES to discover the newest consumer technologies being introduced to the world, and how they might affect radio broadcasters. From robots to flying taxis to smart cities, it's all on display there. It's easy to get caught up in the glitz, electricity and sheer scope of this event. But if you open your eyes, you begin to see larger themes.
For the past several years, Fred and Paul have led groups of broadcasting executives on a guided tour of the convention center, while I wander off to other parts of The Strip to see what's out there.
This year, I made my way to C-Space at Aria. The "C" stands for "content." Increasingly, CES is not just about gadgets, but also about companies that make the content that can be seen or heard on those gadgets. It was here at C-Space that I found sports brands like WWE, eSports companies including Gamespot and video brands such as Hulu. Because these companies don't always have physical products to display, C-Space revolves around sessions, which are often panel discussions or product demonstrations.
I caught two sessions particularly relevant to radio broadcasters. The first was a session about Amazon Music's new HD streaming service moderated by Andrew Hampp. The session was standing-room only, no doubt because it featured the star power of 15-time Grammy Award winner Alicia Keys, along with Emily Lazar, a Grammy Award-winning chief mastering engineer and founder of The Lodge studio, and Andre Stapleton, head of label relations in North America for Amazon Music. They were there to impress upon the audience the size of the leap forward in sonic quality Amazon's HD streaming provides.
The session began with a short promotional video featuring a number of high-profile music artists, the most impressive of which was Neil Young, who has refused to allow his music on streaming services for years because of the inferior audio quality. The fact that he has not only allowed but endorsed Amazon's new service, speaks volumes:
Amazon isn't the first streaming company to make a big bet on audio quality; it's been a selling point for Tidal for years. But the fact that it put so much effort into this feature shows just how serious they take it.
The second session I attended featured Spotify's Chief Content Officer Dawn Ostroff, along with Paul Feig, the Hollywood writer and director behind TV shows like Freaks and Geeks and movies like Bridesmaids, along with Lele Pons, a digital content creator who has amassed millions of followers through her sketch comedy videos.
They were there to talk about Spotify's podcasting initiatives. Spotify's big announcement at CES was the introduction of streaming ad insertion into podcasts, which will no doubt be a hot topic in this space this coming year; but that wasn't the topic of this session. This panel was there to talk about Spotify's investment in big talent to produce original podcast content.
Feig and Pons are approaching the medium from very different angles. The older Feig, who is producing a true crime comedy podcast for the company, referenced radio dramas of the past, and had clearly invested a lot of thought into the execution. The younger Pons comes at the craft with a decidedly less deliberate approach, at one point boasting that she doesn't listen to many other podcasts because she doesn't want to be overly influenced by them.
At times, it felt as if Spotify had deliberately chosen two content creators from opposite ends of the spectrum: an experienced stalwart and an experimental rising star. It reminded me of Spotify's perplexing twin purchase of Gimlet, a company that produced a small number of exceedingly high quality podcasts, and Anchor, a mobile phone app that enables the easy creation of disposable podcasts. It was a fascinating contrast, and reminded me that creativity is the product of many members of a team.
Nonetheless, the message of the session was clear: Spotify will continue to invest heavily in podcasts.
And it was also clear that Spotify is committed to innovation — a commitment that is shared by thousands of companies, big and small, at CES. In the everyday hustle to schedule tomorrow's music log and voicetrack the next show, it's easy to lose site of radio's place in the larger world. At CES, you see our industry in a much broader context.
These two sessions from other audio entertainment companies, along with so many other exhibitors offered some lessons for radio:
1. Invest
These companies listened to consumers and invested millions of dollars into the development of new products to meet their needs. They weren't in Las Vegas just to meet their own companies' needs; they were there to serve their customers and improve their lives.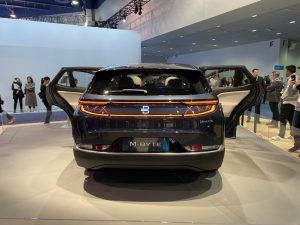 Some of the products on display at the Las Vegas Convention Center and other venues may never see the light of day. For example, Fred highlighted Mercedes' futuristic concept, the Vision Avatar, recently. The vehicle and the other-worldly environment the company created with James Cameron and the "Avatar" team are symbols of their commitment to the future.
While Mercedes' concept car may not show up in anybody's driveway anytime soon, a concept from two years ago, the Byton M-Byte (pictured above), is now a reality; the electric car goes on sale this spring. It's proof that smart investments can yield wonderful products.
CES serves as a reminder that the radio industry cannot be content to serve up the same old products and market them the old same way. Both the audience and advertisers want more, they deserve more, and other media players are willing to give them more. You don't show up to CES with last year's products, much less last decade's model.
Radio must find a way to attract investment dollars rather than simply cutting costs. The notion of spending money on the development of new things that may never pan out may seem ludicrous to us, but that's precisely what the successful companies showcasing their innovations at CES are doing. They invest their money to make their products significantly better.
2. Partner
Companies don't have to innovate alone. In fact, sometimes the best products are birthed by combining core strengths. This year, we continued to see strategic collaborations yielding fantastic results throughout CES. From Elevate, the air taxi by Hyundai and Uber, to Honda's mashup with Soundhound,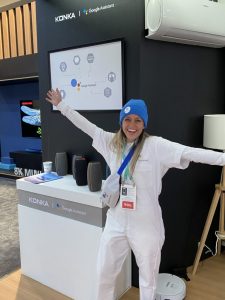 partnerships could be seen everywhere.
Google typifies this type of collaborative thinking. Its jump-suited, spirited street teamers were embedded in the booths of its partners throughout CES, demonstrating how Google Voice technology integrates seamlessly with other gadgets and brands.
The radio broadcasting industry has dipped the big toe into these waters, but CES shows us how much farther we can go.
3. Show up
In the last several years, a number of new companies have shown up at CES.
First came the car companies: everyone from Ford to Hyundai to BMW. They not only took over the entire North Hall of the Convention Center, but they became such a big presence that Detroit was forced to move its auto show to the spring to keep it away from CES.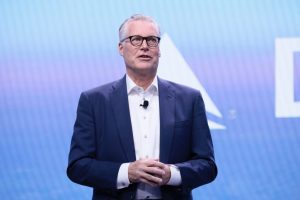 After the car companies came others: After years of resistance, Google and Amazon showed up. Even John Deere made its debut last year, with a gigantic self-driving combine in tow and they were there again this year in a big way.
This year, Delta was the first airline to ever give a keynote address at CES, and I predict other airlines will follow. Bridgestone Tire made its first foray onto the exhibit floor. The legacy brand, Victrola, had an impressive space near all the big boys, which they used to showcase record players and radios, among other electronics. And, of course, the content creators at C-Space were there to show off their new innovations.
The message is clear: These companies want to be part of a discussion that's much bigger than just their industries. They are reaching out by tapping into larger events. CES is a reminder that radio companies are part of a much larger ecosystem, encompassing everything from Twitch to Tik Tok.
4. Think Big
Radio has always had access to celebrities, but how well have stations leveraged that access to promote new products or services? When is the last time you heard an A-list celebrity say, "I'm excited about radio because they're doing X!"
I don't mean the artist IDs we record when bands pass through town; I mean a full-throated endorsement of the medium and its initiatives. Amazon developed a service that earned the endorsement of Neil Young and Alicia Keys. What can we do that would be worthy of that?
Big visions attract big names. While there are a handful of examples — events like the iHeartRadio Festivals come to mind — on most days in the radio business, big visions are in short supply.
At its core, CES is about optimism. It offers an exciting look at what the future might bring. It's full of innovators and dreamers, each offering their own unique vision of what's to come. The conversations aren't about what is, but about what could be.
In our industry, we sometimes struggle to embrace the future with the same optimism. When that happens, it's helpful to step outside of our world and see what others are thinking and talking about.
For more assistance on digital or social media, contact MAB Member Services at mab@michmab.com or 1-800-968-7622.
Editor's Note: The views and opinions of this article do not necessarily reflect those of the MAB. Contact the MAB for information on the MAB's official editorial policy.