Michigan Radio's Bryce Huffman Explores Black History in America with Live Dates Around State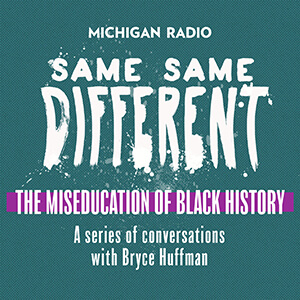 Michigan Radio West Michigan Reporter and Same Same Different podcast host/creator Bryce Huffman is hosting three live events around the state that will explore the importance of black history in America — how it's being taught and its impact on black identity.
At each event Bryce and his panel will be discussing these and other questions: What does it mean for our history to be an elective and not a standard course? How does that affect how we learn our own history? How does this shape our identity? Once we realize that it's mostly taught as an elective, where do we go from there?
The first event was held February 19 in East Lansing.  The two remaining dates are:
Sunday, February 23rd: Spread Art, Detroit, 6:00 PM – Register Here
Tuesday, February 25th: Opperman Auditorium, Mt. Pleasant, 7:00 PM – Register Here
For more information on Same Same Different or to listen to Same Same Different podcasts click here.
A Detroit native, Huffman graduated from Central Michigan University with a degree in Journalism. He joined Michigan Radio as a newsroom intern in May 2016.