Over $20,000 Raised During WLEN 2020 Kiwanis Radio Auction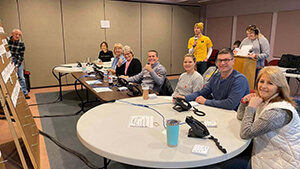 The Kiwanis Club of Adrian, in partnership with Lenawee Broadcast's WLEN-FM, hosted its 26th Annual Radio Auction on February 8.
The auction featured hundreds of items donated by local businesses up for bid. The event was broadcast live, raising over $20,000 to benefit the Adrian community. Major Event sponsors included Old National Bank, Iott Insurance and The Farver Foundation.
Proceeds from the auction directly benefit local projects sponsored by the Kiwanis Club of Adrian.
The Kiwanis Club of Adrian is a local service club that intentionally takes action to revitalize Adrian through encouraging economic development, supporting educational development for young children and creating and supporting recreation opportunities for the Adrian community.