WJRT Celebrates Mid-Michigan Seniors With #ABC12SeniorShoutout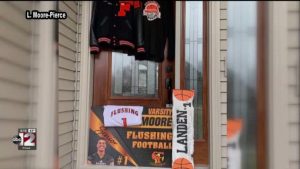 Proud parents of high school seniors are being encourage to decorate their front doors with and share their student's accomplishments with the WJRT-TV news team on social media with the tag #ABC12SerniorShoutout. The station has then been featuring local high school seniors as part of regular newscasts.
"It took about an hour (to decorate). Of course I had to find tape, because I can't go out and about. Stuff kept falling down. We figured it out," Terri Bates, a Grand Blanc High School parent, told the station.
"It's fun! Let the seniors know that we're still supporting you. We're still proud of you guys. I know we can't normally do what we do for you this year. But, this is to just give them some inspiration." Of course, anyone who sees a decorated door is encouraged to honk their horn.
Click here to read more about this exciting community effort and see #ABC12SeniorShoutout reports.