WMMI/WCZY Tossed TP on April 1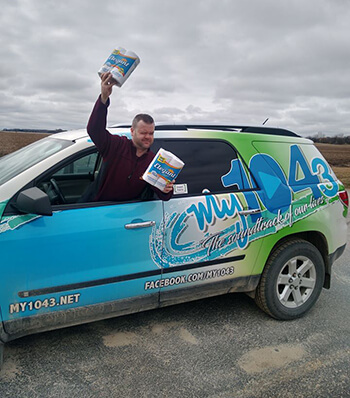 In a very timely promotion, Latitude Media's WMMI-AM./FM and WCZY-FM (Mt. Pleasant) gave away 4-packs of toilet paper to over 104 families last on April 1. WCZY OM/Morning Host Shawn Powers and Afternoon Host and Sports/Promotions Director Chris Spachman tossed the precious prizes out to people's homes as they drove around the market, all in compliance with Governor Whitmer's social distancing order.  Listeners participated via a Facebook Live video of the drive-around.
"Like in many communities around the country, we saw the need in our local area for the product & jumped on it," Powers said. "Our listeners were extremely receptive and at one time we (had) over 100 people watching the video, giving us directions to their place. It was something small we could for our small community, yet it was so much fun to do! We hope to be able to help those in need here in our community again in the near future. Mount Pleasant is as a pleasant as the name says."
Latitude Media's owners, Bob and Laurie Peters, have already granted a total of $18,900 in free advertising to 27 local businesses, with twenty businesses to each receive $500 of free commercials on the stations.