MAB Adds Captioning to Governor's Press Conferences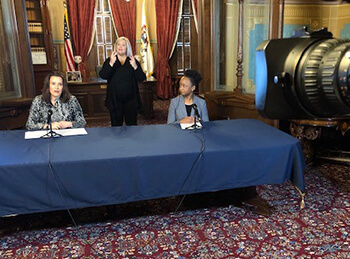 In an effort to help Michigan's Television Broadcasters streamline carriage while keeping expenses down, the MAB has leased a captioning unit and is providing live captioning of Governor Gretchen Whitmer's COVID-19 press conferences that are pool-fed by WLNS-TV (Lansing).
Dynamic Captioning of Grand Rapids delivered a EEG HD-490 iCap Captioning unit late Wednesday Morning (4/15) to WLNS, where it was quickly installed and plumbed in.  WLNS Chief Engineer Cory Cumming oversaw the effort, assisted by John Moore and Scott Andres.  It was tested and operational by 2 p.m.
Just over an hour later, Governor Whitmer announced a last-minute press conference and the new box had its first workout, adding captioning to WLNS' TVU feed from downtown Lansing, before it was sent on to CBS, who uplinked it to Galaxy 16.
Our thanks to everyone at WLNS, including Cory, John and Scott, plus News Director Jam Sardar and News Operations Coordinator/Chief Photographer David Parks for making this happen.  The MAB is doing its best to improve the quality of these press conferences for both television and radio.  WDIV-TV's Kim Voet recently provided mics and a mixer for the press conference coverage.