Michigan Broadcasters Come Together for Another COVID-19 Town Hall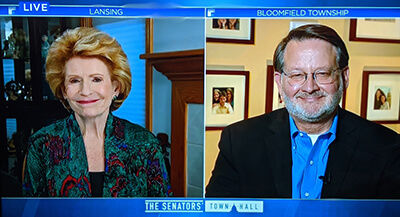 On Thursday, April 16, Broadcasters in Detroit and statewide took part in another COVID-19 Town Hall, this time featuring Senators Debbie Stabenow and Gary Peters.  The two took questions from Detroit television anchors Huel Perkins (WJBK-TV), Devin Scillian (WDIV-TV) and Carolyn Clifford (WXYZ-TV). For the second time in two weeks, television stations in Detroit have come together to present this program.
The three posed questions submitted by viewers over the last week.
The television broadcast aired on both commercial and public television stations throughout the state as well as both commercial and public radio stations, with help from WGVU (Grand Rapids) and WKAR (East Lansing).  Production was coordinated by Ian Rhodes of WDIV-TV.