Both Senate, House Considering Expansion of PPP Lifelines to Include Local Media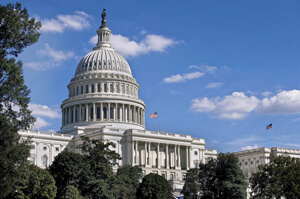 Broadcasters may soon be able to take advantage of the Paycheck Protection Program after a bipartisan-backed bill was introduced in the Senate on Wednesday (5/13) that would allow local radio and television stations and newspapers to tap into the federal government's small business loan forgiveness program, according to a report in InsideRadio.
While stations and newspapers typically operate locally, the rules of the Paycheck Protection Program enacted in March excluded many local clusters because of the size of their parent corporations, including a 500-employee cap. The Senate bill would change that, allowing any local station or local newspaper with up to $41.5 million in annual revenue to qualify for the program that's administered by the Small Business Administration. It is the same carve-out that Congress included for local hotels and restaurants under the original CARES Act that became law in March.
This is something that the National Association of Broadcasters and newspaper trade groups have been lobbying for hard on Capitol Hill.
"Advertising losses have devastated the local media business in recent weeks at a time when credible, lifesaving local news and information is needed most," NAB President Gordon Smith said in a statement. "Broadcasters look forward to working with Congress to ensure that this legislative language is included in future Coronavirus economic relief efforts to help preserve local media and local journalism."
The Senate's Local News and Emergency Information Act was introduced by a bipartisan group that included Senators Maria Cantwell (D-WA), John Boozman (R-AR), Amy Klobuchar (D-MN), Joni Ernst (R-IA) and Minority Leader Chuck Schumer (D-NY) as efforts to help local media outlets have been gaining steam on both sides of the aisle.
A similar measure was included in draft legislation released by House Democrats on Tuesday (5/12), where a bipartisan group of 126 lawmakers have backed helping radio, television and local newspapers. The House is expected to pass its full 1,815-page Health and Economic Recovery Omnibus Emergency Solutions Act, or HEROES Act, today (5/15). However, that legislation is expected to stall in the Senate, where Majority Leader Mitch McConnell (R-KY) has said he thinks it's too soon to pass a third stimulus bill since the full impact of the first two bills is not yet clear.
Additionally under the House proposal, local radio, television and newspaper employees on the front lines of the COVID-19 pandemic could be eligible for federal payouts under the latest $3 trillion coronavirus relief package proposed by U.S. House Democrats on Tuesday (5/12). The bill includes a $180 million "heroes fund" that would provide for "hazard pay" of up to $10,000 for essential frontline workers, according to an earlier report in InsideRadio.
The expanded loans to broadcasters and hazard pay for frontline workers are just two of several ideas included in House bill, yet one element not included is any use of federal advertising dollars as way to funnel some much-needed cash into the hands of local media outlets. Some lawmakers think the answer to that challenge is simply getting the government to spend the money that's already been allocated to advertising and more than 240 lawmakers have signed a letter to the Trump administration last month asking it to direct federal advertising funds to local news and media outlets.