WILX Raisies more than $10K to 'Feed the Frontline'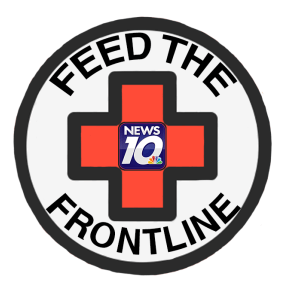 Partnering with PCFU and local restaurants, Gray Media's WILX-TV (Lansing) has raised more the $10,000 in its ongoing effort to "Feed the Frontline."
On Monday (5/11), the station announced that donations had totaled $10,551 as it served up lunch with Ryan's Roadhouse to Sparrow Clinton Hospital. The "Feed the Frountline" effort began on  April 14 when News 10 covered the costs for Saddleback Barbecue to be delivered to the team at McLaren Greater Lansing Hospital.
Then, during the week of April 20, News 10 partnered with PCFU to gave thanks to Sparrow Hospital in Ionia with the help of Big John Steak & Onion. WILX and PCFU each donated $2,000 toward the effort to show appreciation to different medical personnel, first responders and others that are on the frontlines every day.
On May 4, News 10 dropped off food from Gene Davis and Sons Catering to Henry Ford Allegiance Health in Jackson. The nurses at the hospital say the outpouring of support from the community has made this difficult time much easier.
"It's a weird time in the hospital right now. We don't have a lot of visitors, we're not allowed to see a lot of people, some health care staff are actually quarantining from their families. So just having these little things like this makes a big difference to our staff every day. We know that our community is thinking about us, and helping us get through this COVID situation," registered nurse Matt Matthias told WILX.
"This has been wonderful to see the community outpouring all this support in donating food to the ER. We really appreciate WILX especially working with somebody local and supporting our community. It really makes the staff feel good during times like these."
On May 8, News 10 delivered boxed lunches to the firefighters at the Delhi Township Fire Department in partnership with City Limits.
Delhi Township Fire Chief Brian Ball said, "It makes us feel good and what people say is this is a thankless job, and this is a huge thank you to us."
City Limits Owner Van Orlando said, "We're in this together, so if we can use all of our resources to help people out. It's great being part of the community and it's a great opportunity to help out."