WSGW Recognized for Community Service with NAB Crystal Award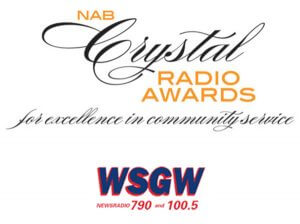 WSGW-AM (Saginaw) was one of 10 radio stations across the nations to be honored on Wednesday (5/13) as part of the the 33rd annual NAB Crystal Radio Awards.
Since 1987, the NAB Crystal Radio Awards have recognized radio stations for their outstanding year-round commitment to community service. The 2020 NAB Crystal Radio Award recipients listed below were chosen from 50 finalists and were recognized during the NAB Show Express.
KRMG-FM (Tulsa, Okla.)
KRWM-FM (Seattle, Wa.)
KUBL-FM (Salt Lake City, Utah)
KVTY-FM (Lewiston, Idaho)
WDNS-FM (Bowling Green, Ky.)
WHUR-FM (Washington, D.C.)
WKRQ-FM (Cincinnati, Ohio)
WREW-FM (Cincinnati, Ohio)
WSGW-AM (Saginaw, Mich.)
WSUN-FM (Tampa Bay, Fla.)
NAB Crystal Radio Award finalists were chosen by a panel of judges representing broadcasting, community service organizations and public relations firms.
Congratulations WSGW!