WSGW Honored as 2020 Service to America Awards Finalist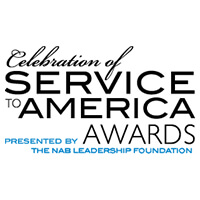 The NAB Leadership Foundation announced Thursday (5/28) that Alpha Media's WSGW-AM/FM (Saginaw) Sharing Hope Radiation is among the finalists for its 2020 Service to America Awards.
The awards recognize outstanding community service by local broadcasters. Winners will be announced during the organization's Celebration of Service to America Awards program, which will be held this year a prerecorded event that will be available online in late August.
WSGW News Radio is one of two finalists in the Medium Market category for radio. The station was previously honored for its community service efforts on May 13 as one of 50 finalists for the annual NAB Crystal Radio Awards.
Congratulations again to WSGW!
Click here to view WSGW's Sharing Hope Radiothon entry and a full list of 2020 Service to America Awards finalists.