WWMT Celebrates 70 Years on the Air in Kalamazoo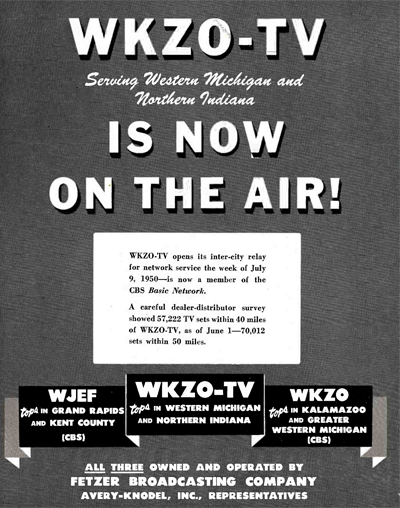 Sinclair Broadcast Group's WWMT-TV (Kalamazoo) is celebrating 70 years on the air.  On June 1, 1950, the station signed on as WKZO-TV, West Michigan's CBS affiliate, running out of the Old Burdick Hotel, now the Radisson Plaza Hotel.  WKZO-TV was West Michigan's 2nd television station after WLAV (WOOD), which signed on 8/15/49, and the 2nd CBS in Michigan after WLNS (Lansing). Originally WKZO was part of the South Bend DMA. The station was the nation's 102nd station and Michigan's 5th.
The station was founded by John Fetzer, who began his own experimental radio station at Emmanuel Christian College, now Andrews University, in Berrien Springs.  The success of Fetzer's station led the college to start KFGZ, the Radio Lighthouse. The call letters were changed to WEMC in 1925. When WEMC faced closure due to financial difficulties, Fetzer bought the station for $5,000. He moved WEMC to Kalamazoo on Sept. 1, 1931, and changed the call letters to WKZO-AM.
From sign on, WKZO-TV was simultaneously the CBS, NBC and ABC Affiliates for SW Michigan. Starting in 1960 WZKO dropped the NBC sign and then shared the ABC signal with WOOD. Some nights it would televise CBS and other nights ABC. WKZO-TV dropped its ABC affiliation in 1962 when the FCC permitted WZZM to broadcast its Channel 13 signal on VHF channel 12 in the Kalamazoo area.
In 1960, Fetzer built a 1,100 foot transmitter near the northern edge of Gun Lake, which was within 15 miles of Kalamazoo as required by the FCC, yet reached into the City of Grand Rapids. This made WKZO move it's DMA from South Bend to Grand Rapids.
Fetzer sold the television station in December, 1985 to George Gillette's Gillette Holdings (Vail Resorts, Inc.) and the call letters were changed to WWMT (We're West Michigan Television).
Following several other ownership changes, WWMT was acquired by Sinclair in 2012.
Read a complete timeline of WWMT's history here.