Blarney Stone Broadcasting Q100 Set to Become One Giant Super Q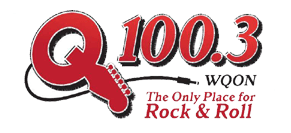 Q100  WQON-FM (Grayling)  is raising its voice, dramatically expanding its reach throughout central and northern Michigan.
Branded by Blarney Stone Broadcasting as "The Only Place for Rock & Roll," Q100's new signals will deliver deep cuts spanning 60 years of Rock & Roll and will be heard across Northern Michigan from Clare up to Sault Ste. Marie, and from Traverse City over to Onaway.
"Our passionate listeners have been asking us to expand and now we're meeting this challenge and raising our standards." said BSB President and CEO Sheryl Coyne.
To do that, Blarney Stone is simulcasting it's Q100.3 WQON station in Grayling with 106.3 WWMN in Thompsonville and 94.5 WYPV in Mackinaw City.
The planned launch date is Monday, June 22, and includes a new live and local on-air talent lineup: Finster in the Morning with Sean Finnegan and Krystal Fluette will air 5:25 a.m. to 10 a.m, weekdays, followed by Jomama's Rock & Roll Joyride from 10 a.m.-3 p.m. JC in the Afternoon will air live from 3 p.m to 6 p.m. with Owner/Operator Jerry Coyne, followed by Jabo's Soundcheck, with Emmy award winning guitarist, singer, songwriter and producer Jabo Bihlman, from 6 p.m. to 8 p.m.
Q100's extremely popular Weekend Request Fest with Road Runner will continue along with Michigan focused Michigan Music Uncovered with Erica Blair, Larry McCray's Blues is My Business, Inzane Asylum with Eric Zane and national programs including Floydian Slip, Get the Led Out, Sammy Hagar's Top Rock Countdown, Dee Snyder's House of Hair and Little Stevens Underground Garage.
"We're especially excited for our advertising partners who can reach so many more potential customers with a single ad," Coyne said. "And we're extremely proud to share it with our passionate listeners and continue to provide sound business leadership for our community and sponsor partners."
The website will remain q100-fm.com where listeners can continue to stream us live. The stream is also available via mobile app by searching "WQON" in your App Store or by asking Alexa to play "Q100 Michigan."