Townsquare Battle Creek Raises $35,750 for Homeless Shelter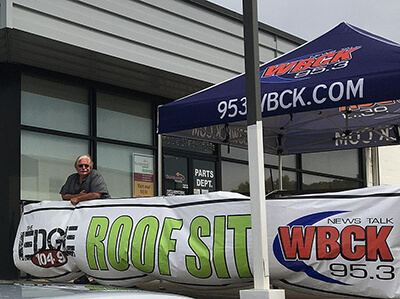 On Friday, June 26, Townsquare Media's WBCK-FM and WBXX-FM (Battle Creek) presented their 14th Annual Roofsit, raising money to benefit the Haven of Rest's Inasmuch House, Calhoun County's only shelter for homeless families. The event is usually held over two days. This year it was one.  Personalities from both stations were live for 12 hours beginning at 6 a.m., not on the roof this year, but rather on the patio next to Sunshine's service department.
"We've done the Roofsit at six different locations," said Tim Collins, 95.3 WBCK Morning Show Host and Director of Content at Townsquare Media. "We started at the Haven of Rest downtown and even did it on top of a Behnke semi-trailer one year. This year we're really happy to be in the Magnificent Motor Mile on Dickman Road, on top of Sunshine Toyota. Gary Minneman, Jr. has been a great supporter of the event in the past and was a tremendous host last year."
More photos here.