Oral Arguments Heard in GOP Challenge to Governor's Executive Authority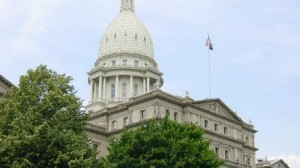 The feud between Governor Gretchen Whitmer and the Republican Legislature over executive authority that has been fueled by the coronavirus pandemic saw its latest day in court on Tuesday (8/6) as oral arguments were heard before the Court of Appeals, according to a report in Gongwer.
The appeal mounted by the GOP in House of Representatives and Senate v. Governor (COA Docket No. 353655) hinges on a final unanswered question: Can the governor correctly rely on the Emergency Powers of the Governor Act of 1945 as her sole remaining basis of authority to exercise what attorney Michael Williams called "fiat power" in Michigan?
Among several arguments, Williams argued that the statue does not allow Whitmer to tap into "some secret reservoir of power" for unilateral action during states of emergency and disaster. He also argued that the law does not offer broad latitude to legislate by the might of her own pen, and that doing so has infringed on the powers of the legislative branch.
Meanwhile, Eric Restuccia, the state's deputy solicitor general, argued legislative Republicans lack standing to seek relief in this matter. Throughout the case, the governor through her attorneys has said that none of her actions have limited the Legislature's ability to enact policies addressing the pandemic.
He added that if Senate Majority Leader Mike Shirkey (R-Clarklake) and House Speaker Lee Chatfield (R-Levering) were unhappy with the mechanics of either the 1945 law or the Emergency Management Act of 1976, the majority could pass legislation to amend or repeal the laws.
Whitmer has relied on both laws, but the 1976 law requires the Legislature to approve an emergency extension after 28 days. The Court of Claims upheld Ms. Whitmer's reliance on the 1945 law, but not the 1976 law.
A three-judge panel made up of Judge Jane Markey, Judge Kirsten Frank Kelly and Judge Jonathan Tukel  said it would take all arguments under advisement without giving any indication when a ruling might materialize.
The panel will have to decide by August 21 on order of the Supreme Court, as the high court in a late July ruling demanded an expedited decision no later than that date. Justices plan to address the lawsuit when they take up a set of certified questions in a separate but related lawsuit on September 2.