WKHM Debuts The Chamber Show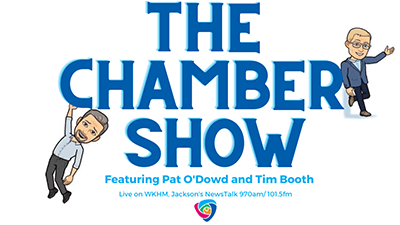 McKibbin Media Group has announced the debut of "The Chamber Show," a monthly program to air on the company's WKHM-AM (Jackson).  Presented in partnership with The Jackson County Chamber of Commerce, the show hosted by Pat O'Dowd, Business Development Manager and Tim Booth, Events and Legislative Affairs Manager will tell the story of the Chamber, its members, and the positive impact the organization has on prosperity in the Jackson community.
The Chamber Show debuted August 12 and airs live on the 2nd Tuesday of each month at 8:30 a.m. "I am very excited to grow the relationship with our radio partner, WKHM Jackson, in a way that will showcase the Chamber and tell the story of our members," said Craig Hatch, President/CEO, Jackson Chamber.
The Jackson County Chamber of Commerce is an association of businesses and non-profits committed to strengthening their businesses and the Jackson Community. With a proud history reaching back to 1909, the Jackson County Chamber of Commerce supports its members through promotion, advocacy, collaboration, networking events and education.