Flint City Bucks Games to Air Sundays on WBSF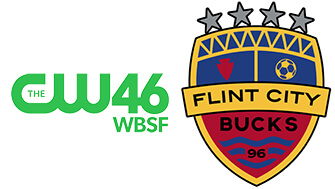 The 2019 USL2 National Champion Flint City Bucks will have their games televised live on Cunningham Broadasting's WBSF-TV (Flint). The first live telecast for the soccer team will be Sunday, August 23 from 12 to 2 p.m. when they host Midwest United FC at Kettering University's Atwood Stadium in Flint.
Because of the state's Executive Order and health and safety regulations related to live sporting events, fans will not be permitted to attend these matches.
Bucks Chairman, Dan Duggan remarked, "Special thanks to the team at The CW46 who worked extremely hard to make this possible. We know our fans have struggled like everyone else over the past five months. We were all looking forward to celebrating the defence of our national title together at Kettering University's Atwood Stadium. With no fans allowed in attendance, this is the next best opportunity for our supporters to keep up with the team, the status of our college and professional players and how our 2021 season is shaping up. I hope that everyone will tune in to listen to our long time broadcast team of Neal Ruhl and Gary Parsons."