WDIV Hosts Virtual Education Town Hall on Return-to-School Plans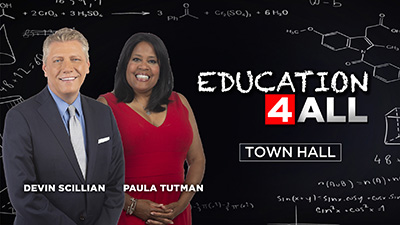 On August 13, Graham Media Group's WDIV-TV (Detroit) hosted a very successful live, virtual "Education Town Hall" on the return to school plans amid the coronavirus pandemic.
Devin Scillian and Paula Tutman were joined by parents, students, and education leaders from across the state to answer questions on the complicated decisions being made by schools and parents heading into the 2020-2021 school year.  More than 43,000 viewers tuned in on the station's website (ClickOnDetroit.com), the Local 4 app and on Facebook Live!
WDIV reports that it's part of an overall station initiative called Education 4 All:
Education 4 All is a multiplatform reporting and community engagement commitment by WDIV-Local 4/ClickOnDetroit to extensively cover the complicated issues of education, especially during the Covid-19 pandemic. The goal is to keep parents and students up to date with the latest education news. The effects of what the station does now will have far reaching impact on our children's physical and mental health, achievement, policy and state's trajectory.
Local 4 is planning an "Education 4 All" primetime special on Monday, August 31.
A recording of the "Education Town Hall" is available here.
The station also has a "Return to School" page here.