WRSR Celebrates 20 Years of Rockin' Flint!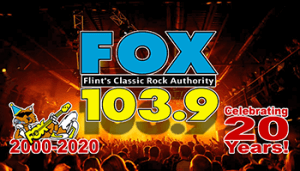 Special Thanks to Jeremy Fenech for sharing!
Krol Communication's 103.9 The Fox, WRSR-FM (Owosso/Flint, is celebrating 20 years of playing classic rock in the Flint market.  As current Program Director Jeremy Fenech tells it, then-Cumulus-owned station, under the local direction and leadership of Flint radio legend Jeff Wade, made the switch at noon on September 14, 2000. That was when the thunderous, bold and booming voice of Paul Turner began speaking to Mid-Michigan. And as "It's Only Rock And Roll (But I Like It)" by the Rolling Stones began to play as the very first song under the new format, Flint's Classic Rock Authority, 103.9 The Fox was born!
In addition to Jeff Wade, other amazing voices like Stan Parman and Mike Sinclair were there at the very beginning. Shortly after the launch other local rockers like Dennis Mitchell, Roy Moore and Andre Peters joined the team.  Jeff Wade nominated legendary Flint broadcaster and newsman, the late Les Root for the Michigan Journalism Hall of Fame and the Michigan Association of Broadcasters.
During life as a corporate-owned radio station, 103.9 The Fox aired several syndicated shows. At one point Alice Cooper was on six nights a week, but he was pre-recorded days or weeks in advance to accommodate touring. And although Alice visited Flint, he never broadcast his show from the city.
March of 2011 brought the announcement that Cumulus Media and Citadel Broadcasting were merging. In the process, the new company would own too many FM radio stations in the Flint market and had to get rid of one. Because of it's relatively weak signal in the Flint Metro, the thought was that compared to all of their other properties, 103.9 FM had the least potential to be lucrative. So the decision was made to put The Fox in a trust until it could be sold. It operated in that trust for over a year under the local direction of General Manager, Bill Bailey.
Rod Krol, the local owner and president of Krol Communications Inc., took over ownership of WRSR-FM in December 2012. He also purchased the naming and branding rights allowing the station to continue as Flint's Classic Rock Authority, 103.9 The Fox. Bill Bailey was asked to stay on as General Manager, and continues to serve in that capacity. Today, WRSR-FM is consistently ranked #1 in local sales revenue, dominating the Flint Radio Market. Ironically, that includes all of The Fox's former sister stations and all competitors!
Jeremy Fenech, a Flint native and mega-radio geek, took over as Program Director in March of 2016, bringing with him 21 years of radio broadcasting experience, 18 in programming. During his first month, Jeremy permanently unplugged the station's satellite dishes, putting an end to all nationally syndicated programming. Everything going forward around the clock, twenty-four hours a day, seven days a week, would originate exclusively from 103.9 The Fox's Flint studios on Miller Road.
In addition to being 100% locally programmed since 2016, 103.9 The Fox can also boast that it features live and local in-studio disc jockeys seven days a week! No other radio station in town can say all of that without blatantly lying. A slight and subtle change was also made to the logo, changing 'The Classic Rock Authority' to read 'Flint's Classic Rock Authority.' Jeremy also decided to once again utilize the call letters WRSR-FM in the station's branding: 'We R Solid Rock in Flint, Michigan!'
103.9 before WRSR: The frequency 103.9 was actually launched as an FM counterpart to WOAP-AM, owned at the time by the Owosso Argus Press. It first signed on in April of 1948 before FM really took off, and despite heavy promotion failed in 1953. After being dark for more than 12 years, 103.9 FM relaunched once again on December 2, 1965, and has been on the air since.
In 1987, new FCC rules prevented the cross-ownership of newspapers and radio stations within the same market. So the station went through a few owners, formats and call letters including WMZX-FM, and WAHV-FM 'Wave 104'. Though it still wasn't the Classic Rock station we all know and love today, in 1998 the station became the Adult Contemporary 'Soft Rock 103.9'. That was when 103.9 FM got those now-famous call letters, WRSR-FM. However, they were originally meant to represent 'We R Soft Rock.'
Fenech is continually updating the station's 20th Anniversary webpage – check it out for more photos and stories here.