WKAR Teams Up with MSU's College of Engineering for Mask Video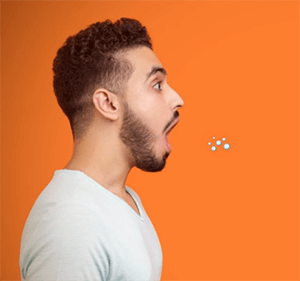 WKAR Public Media (East Lansing) has collaborated with Michigan State University's College of Engineering to produce a video showing the effectiveness of wearing a mask during the current COVID-19 pandemic.  Entitled "Display it, don't spray it," the video features Dr. Rob Stephenson, science educator and Emmy-award winning host of WKAR's Curious Crew, along with high-resolution, slow-motion video captured by mechanical engineering researchers using a high-speed camera. Viewers get to see in detail how respiratory droplets disperse and travel through the air when speaking, singing, and coughing — with and without a mask.
The demonstrations illustrate that wearing a mask can indeed be effective at limiting the spread of droplets that can carry the coronavirus.  "It is important for the public to understand the personal protection provided by wearing face masks," said Dr. James Klausner, chair of the Department of Mechanical Engineering.
"There's a lot of innovative and groundbreaking research being done at MSU – research that has a real benefit to the public," said Carol Yancho, WKAR senior producer. "When working with colleges here on campus, we often have to take very complicated research and make it as easy to understand as possible in just a few minutes. What I enjoy is getting to work with professors and researchers to come up with creative ways to do that visually."
"WKAR is a superb media organization," said Klausner, "and the collaboration was gratifying because [they] provided many creative ideas on how to best represent the research work to the public."
The video is airing on WKAR television now between programs throughout the day and in primetime. It is also available on-demand in the free PBS Video app and online at video.wkar.org.  Watch below: