WOLV Hosts COVID-19 Town Halls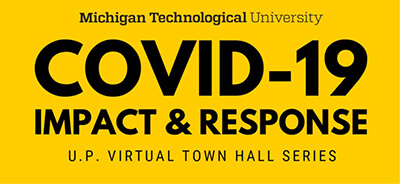 Houghton Community Broadcasting's 97.7 The Wolf (WOLV-FM) has begun broadcasting a series of town hall meetings to inform local residents of the ramifications of the COVID-19 pandemic to the Keweenaw Peninsula and the U.P.
Produced by the Health Research Institute at Michigan Technological University, "COVID-19 Impact & Response," features moderators Steve Elmer and Kelly Kamm, along with a diverse panel of experts. Listeners are able to join the town hall via Zoom or can hear the live rebroadcast on WOLV every Thursday at 7PM. The audience is also able to participate at the end of each one-hour broadcast by emailing their questions to the panel.
The town halls have already delved into the role public health has in the area, emergency preparedness, and the impact COVID-19 has on the human body. Future episodes will look into testing and vaccines, mental health, economics of the pandemic and more.
"Tech's Health Research Institute has helped Michigan Tech become a leader in campus testing and providing safety to its faculty, staff, and students," according to 97.7 The Wolf's Operation Manager, Kevin Ericson. "To bring their expertise and the knowledge of our local health leaders to our audience is our way to take this crises to our listeners and break it down to how it affects us locally."
Town Halls will continue through December 3, save for Thanksgiving and details on how to join the broadcast are available at http://thewolf.com .