Scholarship Honoring WTCM's Ron Jolly Grows to $500,000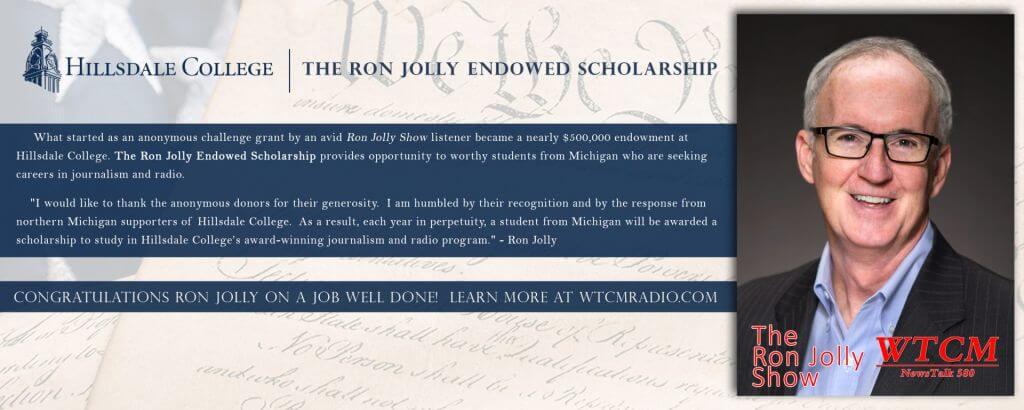 What began in July as an anonymous listener challenge grant to establish a Hillsdale College scholarship in honor of longtime Traverse City morning show host Ron Jolly, has grown to a $500,000 endowment.
"We are very proud of the efforts by Ron Jolly to create this endowed scholarship, as well as the participation by generous listeners who helped propel this fundraising effort to over $500,000, to grant scholarships annually to worthy Journalism/Broadcasting students of Hillsdale College," WTCM General Manager Chris Warren said in a recent message to the MAB.
Ron Jolly, longtime morning show host at news/talk WTCM-AM (Traverse City) announced in July that a scholarship has been named for him at Hillsdale College. The Ron Jolly Endowed Scholarship was formed by an anonymous donor to help send deserving radio and journalism students from Michigan to Hillsdale College.
The scholarship came about after Jolly interviewed professors from the college, with Jolly asking the question, "Why don't we have more Hillsdale Colleges in the country?" A few weeks later, he received a letter from the college saying "we really agree with you, so we're going to start a scholarship in your name for Hillsdale College."
Jolly has hosted mornings on the station since 2004. Prior to that he was morning show host at WXLT-FM (Petoskey). He is also a published author.