Radio First, Port Huron Police Join Forces for 'Cops & Jocks Dinner'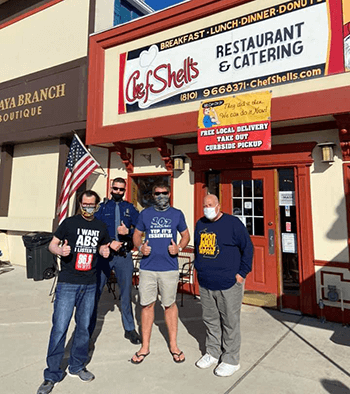 On October 13, Radio First/Liggett Communication's Port Huron radio stations, together with the Port Huron Police Department, hosted the annual Cops & Jocks Spaghetti Dinner, a fundraiser that supports the local C.A.P.T.U.R.E. program.  And this year's dinner exceeded all fundraising expectations, according to Port Huron Police Chief Joe Platzer. The final total was announced Wednesday Morning (10/14) during the WPHM-AM Morning Show with Paul Miller. Chief Platzer says the fundraiser brought in $5600 for the C.A.P.T.U.R.E. program, which pays cash rewards to tips that lead to the arrest of a wanted suspect. That's up $1100 from the prior year.
Due to the COVID-19 pandemic, this years event offered meals for take out and delivery, instead of a traditional in-person spaghetti dinner. "It was very, very well received," said Platzer. "I want to thank the citizens of Port Huron for supporting this important program."
Port Huron Police and on-air talent from Radio First's WPHM-AM/WBTI-FM/WSAQ-FM/WHLS-AM/WHLX-AM distributed the take-out meals.