WCMU Offers Broadcast Journalism Workshop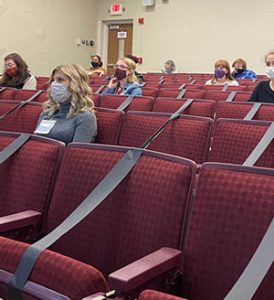 On October 16, WCMU Public Radio (Mt. Pleasant) held its Broadcast Journalism Workshop.  Selected students will be given a paid summer 2021 internship, in which they will produce broadcast stories for WCMU, print stories for a newspaper and web content for both. Sixteen CMU students joined the workshop both in-person and virtually for an intensive training and to be part of the selection process. The Michigan News Group Internship Program is a collaboration between WCMU Public Radio, the CMU Department of Journalism and local newspapers across central and northern Michigan.
The day-long event covered writing, delivery, interviewing, and story development.  The goal is two-fold: To provide a unique training experience, and to evaluate participants for placement in our summer internship program.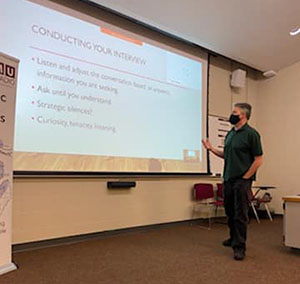 Following the Boot Camp, students selected for internships will spend the first two weeks of the summer program training in Mt Pleasant, getting experience using recording equipment and writing for radio. For the remainder of the summer, interns will be based at the newspaper office to which they are assigned. This internship can be completed remotely if necessary.
This is the third year of the growing program. It's the only collaboration of its type available to students at Central Michigan University, aimed at providing comprehensive training and daily experience in all aspects of journalism.