Senate Commerce Committee Report Shows Tech Companies' Unfair Practices Harm Local Journalism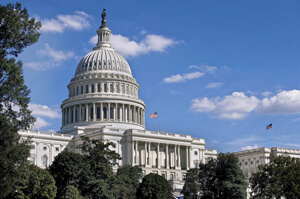 On Tuesday (10/27), U.S. Senate Commerce Committee Ranking Member Maria Cantwell (D-Wash.) released a report outlining the impact of the transformation of news online and the accompanying loss of revenue. The report indicates one factor of the revenue loss is an unfair and abusive practices by tech platforms. It finds that the impact of these practices illustrates the need for Congress to provide the Federal Trade Commission (FTC) new authority to protect the local news industry.
National Association of Broadcasters President and CEO Gordon Smith applauded the report and indicated the organization's willingness to assist Congress in finding solutions to the issues raised by the report.
"NAB thanks Sen. Cantwell for her report on the importance of local journalism to our nation's communities and in preserving democracy," he said. "We strongly support her findings that the competitive power of a handful of digital platforms has dominated the marketplace for advertising and audiences. Local media outlets that are a critical source for trusted, locally-based news and information have been put at an unfair disadvantage, especially at a time when they face severe economic challenges. Local radio and TV broadcasters look forward to engaging with Sen. Cantwell and her colleagues in the House and Senate on bipartisan solutions that support the future of local journalism."
The report examined practices by major tech platforms that have contributed to drastic revenue declines. It found that the biggest online platforms unfairly use content, take local news consumer data and divert customers away from local news websites, while providing little in return. It also charges Congress and the FTC to act and address these unfair and abusive practices to help sustain the competition that local news provides.
"Local news across America creates competition and trusted information," Cantwell said.  "We shouldn't let regional and community news die as local newspapers and broadcasters adjust to digital delivery because online giants are unfairly leveraging the advertising market against them."
The report highlighted the important role local news and journalists play in communities of all sizes throughout the country, showing innovative new models already being used by publishers and broadcasters based on their value as a trusted brand.
Local journalism is still highly trusted in communities around the country. According to a 2019 study from Gallup and the Knight Foundation, Americans trust local news over national news by a two-to-one margin to "report the news without bias." Local journalism has developed that trust based on transparency, accurate reporting, shining a light on crime and corruption, and holding officials accountable.
While local newspapers and broadcasters around the country continue to face existing and new threats, like the COVID-19 pandemic, the report also demonstrates how the trust and community relationships they have built have created a new business model and new revenue streams to allow them to adapt and thrive in the digital era.
The full report is available HERE.