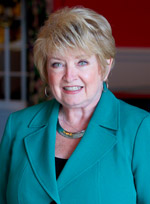 When Karole L. White arrived at the MAB more than 36 years ago, the organization had a part time executive director, a couple boxes of files, and $75,000 in the bank. Membership was at only about 50 percent of its potential and many legislators were not even aware that MAB existed. With the help of very positive board members, and great staff, Ms. White grew the MAB to become one of the most respected broadcast trade associations in the nation.
Prior to joining the MAB, Ms. White held senior positions in several nonprofit associations.  She has been in Association Management in the Greater Lansing area for over 45 years. She served as Executive Vice President of the Michigan Floral Association and its Health Insurance Trust, the MFA Federal Credit Union and Floral Service Inc. She was Convention and Education Director for the Michigan Funeral Directors Association, National Public Relations Director for the United States Cheerleaders Association, Fundraising Director for the Muscular Dystrophy Association and she was a partner in BKM Advertising and Display Inc.
Ms. White acquired her broadcasting experience as Marketing Director for Forbes Cohen Properties Lansing Mall where she planned and produced advertising for the mall.  Prior to that she managed the Jerry Lewis Telethon in Lansing and Battle Creek.
Ms. White has been honored with numerous awards, including induction into the Michigan Society of Association Executives (MSAE) Hall of Fame, the Citizen's Medal of Honor award from the Michigan National Guard and induction into the Michigan Broadcasting Hall of Fame.
She served as President of Mid-Michigan Society of Association Executives, The Broadcast Executive Directors Association, and the United States Cheerleaders Association. She is a board member of the James H. and Mary B. Quello Center at MSU and was a board member of the Museum of Broadcast Communications Chicago.
Ms. White attended Lansing Business University, Lansing Community College, and Michigan State University. In addition to her business accomplishments and volunteer work Ms. White found time to have a family. She has two children, five grand and three great grandchildren. Karole White and Husband Matthew live in Grand Ledge and are both lifelong Lansing area residents.