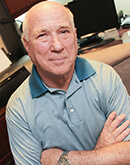 Art Lewis has been a radio broadcaster for nearly six decades, the last 48 as a talk show host on WSGW 790 AM and later added  mornings at the station to the list, inviting
local community leaders to join as guests. Art went to college at the ripe old age of 16 - where he
studied chemical engineering and at 20 years old, he realized his heart was elsewhere which is when radio entered into his life and he's never looked back.
In his career he has interviewed 6 presidents and countless other elected officials and notables. But he will tell you that the most fun he has as a talk show host is talking to everyday listeners on his open line programs. As co-host of the "Listen to the Mrs." radio show, he has participated in the publishing of 11 cookbooks. Over the years he was also involved in hosting numerous television features.
During his time in Saginaw, Art has received numerous awards, among them the Orthy Award for service to Public Television, the Saginaw All Area Arts Award, the Saginaw Bar Association's Liberty Bell Award, the Saginaw Chamber of Commerce Spirit of Saginaw Award and the Robert H. Albert Lifetime Achievement Award. Art was the recipient of the "Outstanding Michigan Media Award" presented by the Crime Prevention Association of Michigan. He has been named Best of the Best broadcast personality in the region 5 different times.
During his 48 years in Saginaw, Art has served on many non-profit boards of directors including the Saginaires Youth Organization, the Boys and Girls Club, Saginaw Zoological Society, Saginaw Bay Symphony Orchestra, Saginaw Art Museum and Hidden Harvest.
He also was chairman of the Saginaw County Convention and Visitors Bureau for 4 years, and serves as co-chair of the Saginaw County Crime Prevention Council, the Media/Law Enforcement Committee as well as being a founding member of the 100 Club of Saginaw. He is also a member of the Dow Great Lakes Bay Invitational LPGA Tournament steering committee.
Art has volunteered his time to serve as emcee at many events in the Great Lakes Bay Region and has been involved with the Saginaw Spirit Hockey Club before the franchise was approved by the Ontario Hockey League in 2002. He has been the arena public address announcer since the very first game played by the team, occasionally filled in as a color commentator, and he currently serves as the team's TV Host. Art handles all the player-worn jersey auctions following selected games during the season, as well as other occasional duties behind the scenes.
Art and his wife operated a tour company for 14 years. They originated motor coach tours from mid-Michigan all over the U.S. and Canada. They also organized group cruises and overseas vacations. And if that wasn't not enough, Art held a CDL license and drove an interstate motor coach for many of his tours. He used his vacation time to take others on vacation.
Art has been married to his wife, Linda, for 56 years. They have two sons, Blair and Scott, two daughters-in-law, Kim and Renee, and one dog named Monkey. They live in a 150-year-old farm house near Saginaw.