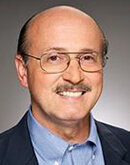 Richard "Dick" Haefner is one of the most recognizable news voices in Detroit radio. Dick worked nearly 52 years in radio news, all in his hometown of Detroit. Unlike most broadcasters, Dick never moved around to other markets. But he still worked at a parade of stations. He was at some of those stations twice.  As a teenaged student at Wayne State University, Dick helped establish the news department at WDET in 1969. As a newscaster and reporter, he made stops at WCAR, WBK, WDEE, WWJ, CKLW, WXYZ, WXYT, and WJR. Dick was news director at five of those stations. He began his second tour of duty at WJR in 1989, as News Director.
His scoops would make any journalist envious. Dick's investigations changed laws on toxic waste sites and gas stations. After his reports revealed an inadequate water system on Mackinac Island, a fatal fire occurred in the main tourist area and prompted the island to build a new, safe water system. Dick was first to report Coleman Young's secret baby, the Nancy Kerrigan 'whack heard 'round the world', and Detroit's two new stadiums. His investigation of a bigamist judge was picked up by the National Enquirer. In 1976, he revealed the existence of an Oakland County Child Killer.
Dick's tenure of 31 years as WJR News Director is unmatched by any Detroit broadcast news director. Under his supervision, WJR News was honored with nearly every national news award in the business, including the Peabody Award, AP National Award for Best Reporting, Edward R. Murrow, National Headliners, Investigative Reporters and Editors, New York Festivals, and numerous MAB and other state and local awards. WJR investigations prompted reforms in the Michigan prison and judicial systems, and solved a murder in which the wrong man was convicted. One investigation forced the U.S federal court in Detroit to renovate courtrooms due to toxic mold. In addition, Dick was honored with national awards for Best Newscast, the James E. Scripps Award, and the National Association of Medical Communicators-AMA Award. His final M-A-B awards in 2019 were for Best Newscast and Best Feature.
Dick credits other people for anything he was able to accomplish. He always said his main job was to put his teammates in position to do their best work. Their awards were his best rewards.
He credits his wife of 50 years, Dr. Judy Haefner, for making it possible to pursue his adventures in broadcasting. Without her, Dick says no one would have ever heard of him. They have two sons, Jeffrey and Richard, and three grandchildren.
Dick served as a volunteer and on the board of several local charities, on the board of the Radio Television Digital News Association, and on committees of the M-A-B.
Dick Haefner retired from full-time broadcasting at the end of 2020 after spending his entire adult life in Detroit radio news. His motto: "Be Right, Be First, and Be Creative. In that order."