Black Diamond Broadcasting Blankets the North with Warmth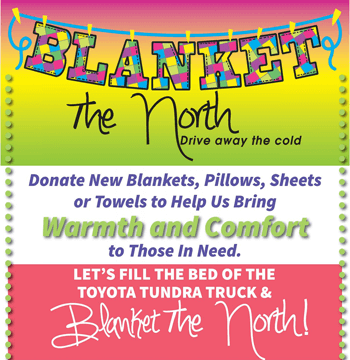 The stations of Black Diamond Broadcasting are teaming together with local Toyota dealers to "Blanket the North with Warmth" now through December 6.  The stations will be broadcasting live from varies Toyota dealer to collect new blankets, pillows, sheet and towels for those in need as the cold weather has returned.
Everything you donate for Blanket the North will be given directly and distributed directly and 100% to local people in need and shelters throughout each local area.  As of this writing, WMKC-FM (Cheboygan), WGFN-FM (Traverse City) and WUPS-FM (Houghton Lake) have announced collection points.