The MAB Young Professional Awards recognize and honor two young professionals (one in Radio, one in Television) who have made a significant impact on advancing broadcasting or media within their organization, demonstrated exceptional leadership potential, and established an understanding of broadcast industry standards, practices and ethics.
Nominations are accepted all year long. The MAB Awards Committee will review all submitted nominations each May. Click Here for the MAB Foundation Young Professional Nomination Form.
Young Professional Award Criteria
Award Criteria
Currently working for an MAB member or associate member station or company in good standing
Meets the definition of a young professional:

A person 35 years of age or younger at the time of nomination, employed full-time by a MAB member broadcast station or company in Michigan (Students not eligible)

Demonstrates strong leadership skills (Examples required)
Demonstrates strong teamwork skills (Examples required)
References from senior management of a member station required (General Manager must be one of the references)
Nomination Criteria
The nomination form must be completed in full and contain sufficient information documenting the nominee's contributions and achievement to accurately determine the candidate's eligibility and qualifications for the award
Self-nomination is not permitted
The nominee must be nominated by their company's General Manager (or equivalent)
The nomination submission must contain:
Complete MAB Young Professional Award online application
At least 2 letters of nomination, one from the lead nominator (General Manager or equivalent) and another from current or past colleagues or managers
Nominee's education history, including if the individual participated in or benefited from MAB Foundation programs while in school
Summary of major contributions
Resume or biography
Lead nominator's name and contact information
The MAB Staff will send each nomination package to a designated panel of judges(MAB Awards Committee members) for evaluation. If a nominee is not selected, he or she may be re-nominated in subsequent years (a new nomination package must be submitted).
Award Winner Benefits
Free registration to all educational training events throughout the year (Media Show, Summer Conference, Webinars)
Asked to participate in MAB/MABF Committees
Attend following year MAB board meetings as a special guest
Future consideration for MAB/MABF Board of Directors
Recognition at the Awards Banquet (Summer Conference)
2023 Young Professional Award Recipients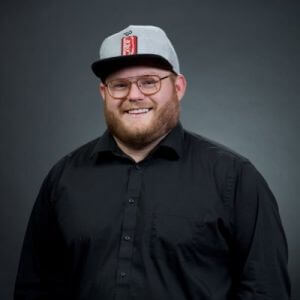 Ryan Logan (Beasley Media Group, WCSX-FM, Detroit) Bio
Ryan grew up in Wixom, Michigan and attended Walled Lake Western High School, where his love for radio began. After playing baseball in college, Ryan returned to Detroit where he attended Specs Howard School of Broadcasting. Shortly before graduating, Ryan began an internship with the morning show at 94.7 WCSX. Quickly working his way up through the ranks, Ryan became the executive producer by the age of 25. After a few short years, Ryan leaped into the co-host position and has been there ever since.
Ryan is Married to his amazing wife Heidi and they have a 1 year old son named Finnian. Ryan loves to golf, even caddying professionally for a short time before getting into radio. Ryan couldn't be more proud to do radio in his home state of Michigan and hopes to stay in Detroit for the remainder of his career.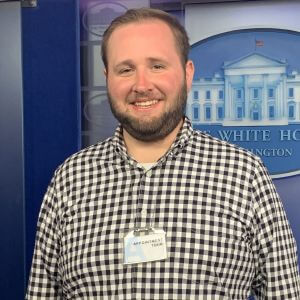 Maxwell White (WXYZ-TV 7 Detroit, E.W. Scripps) Bio
Maxwell White is the digital executive producer at Channel 7, where he helps lead a digital-first strategy for daily news coverage. He grew up in Rochester and fell in love with journalism while on the newspaper staff at Stoney Creek High School, and his education continued at Wayne State University. Max started as an intern at WXYZ nearly 10 years ago before becoming a digital executive producer in 2018.
Now as the digital EP, he plays a pivotal role in the digital news-gathering operations while leading a team and helping develop and execute strategy across all digital platforms. Max also manages the digital coverage for major station initiatives including election and political coverage, the Rocket Mortgage Classic, Detroit tree lighting, Brightest and Best and more. During election season, Max dedicates his digital efforts to make sure voters have everything they need before heading to the polls. That includes coverage around ballot proposals, races to watch, combating misinformation and planning a detailed voter guide.
Outside of work, Max is a board member for the Society of Professional Journalists - Detroit Chapter, and works to grow journalism and promote news literacy across metro Detroit. He is also a Level II Coach with First Tee – Greater Detroit where he helps Detroit kids learn the game of golf and use golf skills to build life skills. When he's not working, you can find Max hanging out in the city, grabbing a beer at Detroit breweries, or on the golf course.
2022 Young Professional Award Recipients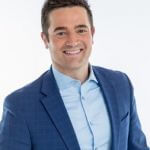 Casey Jones (WOOD-TV, Grand Rapids) Bio
Casey Jones was an intern at WOOD-TV while attending Grand Valley State University. After graduating, he was a GA reporter and fill-in Anchor in South Bend, and then joined the WOOD-TV team as a sports anchor and reporter in 2012. He has earned a reputation as an outstanding communicator and storyteller, and an excellent station representative with a heart for the community. In 2015, he was given the opportunity to become the main co-anchor for the #1 morning newscast in the Grand Rapids DMA, where he furthered his journalistic impact by developing a series entitled "On Your Corner" that took viewers to places in our region to present untold stories around their diversity and unique contributions. He was also a key driver behind our "Friday Morning Football Frenzy Tailgate" project, taking our morning show to local high schools weekly during the fall since 2017. In the summer of 2021, Casey was promoted to the position of Community Affairs Director, leaving behind the anchor desk (but not the storytelling!) and joining the department head team of the station in his first management role.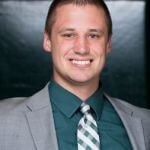 Dalton Shetler (Spartan Sports Media Network) Bio
Dalton Shetler is wrapping up his sixth season with the Spartan Media Network, serving as a broadcaster and producer.  Duties include pregame and halftime host for Michigan State Basketball Radio Broadcasts, co-host of "The Kick-Off Show" as a part of the network's MSU Football presentation, and play-by-play for Michigan State Softball. Shetler also co-hosts and produces "The Sports Life" on SIRIUSXM.  Dalton has filled-in providing play-by-play for MSU Basketball and hosted both the Mel Tucker Show and Tom Izzo Show. Shetler's experience also includes play-by-play of the 2022 MHSAA Softball Finals. Dalton PA announces for MSU Volleyball and Baseball, which also included this past year's Big Ten Softball Tournament. Hosted and produced "The Morning Show" heard daily on WVFN-AM Lansing, MI for more than three years.  Shetler graduated and played basketball for Goshen College.
2021 Young Professional Award Recipients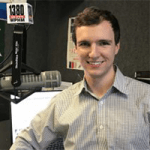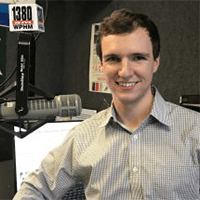 Caleb Gordon WPHM-AM, Radio First (Port Huron)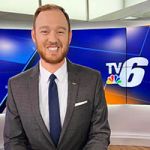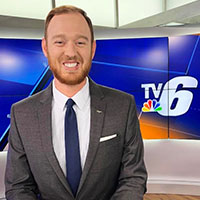 Andrew LaCombe WLUC-TV (Marquette) Bio
2020 Young Professional Award Recipients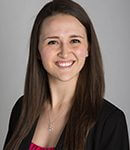 Jeana Gondek, WKZO-AM/FM(Kalamazoo) Bio
Jeana Gondek is both the News Director and the Morning News Anchor at 590AM and 106.9FM WKZO. She joined the WKZO family as the Morning News Anchor in January of 2018 and was quickly promoted to News Director about a year later.
She heads the news department in Kalamazoo and communicates with all other Michigan Midwest Communications stations to gather stories, share content, and inform listeners throughout the state. She also runs WKZO's Facebook and Twitter pages and keeps their website updated with the latest news, which has helped the station's online presence really grow. For example, in April of 2020 WKZO's website page views were up nearly 203% from the year before.
In Jeana's first two years at WKZO she won eight Best "Broadcast Excellence Awards" from the Michigan Association of Broadcasters and two Merit awards, helping WKZO earn the title of Station of the Year in 2019.
Jeana is a hard-worker, a team player, and passionate about the news she provides to the Kalamazoo community. Her broadcasting career began at Grand Valley State University where she earned a Bachelor of Arts in Broadcasting and worked at GVSU's student-run radio station, while also interning at Newsradio WOOD 1300AM and 106.9FM in Grand Rapids. She was then hired as a producer, afternoon news anchor, and fill-in traffic reporter at WOOD once her internship was over.
Now, in the very little free time Jeana has when not covering news she enjoys teaching Zumba at a local fitness center in Kalamazoo, doing yoga, running, and of course napping. Jeana strives to live by Mahatma Gandhi's quote, "Be the change that you wish to see in the world" in hopes of informing listeners and striking up positive change in the community.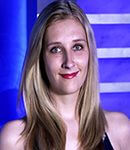 Karie Herringa, WWTV/WWUP-TV (Cadillac/Traverse City) Bio
Karie Herringa is Northern Michigan's News Leader's director of digital operations.
Born and raised in Cadillac, Karie graduated from Cadillac Senior High School in June 2007. While in high school, she also attended the Cadillac Institute of Cosmetology through the school's career tech program, and was enrolled in courses at Baker College.
Karie graduated from the Cadillac Institute of Cosmetology a few weeks after high school, and earned her state license in cosmetology that fall. She worked as a cosmetologist to earn money for college, and continued taking courses at Baker College part-time for a few years before transferring to Central Michigan University in the fall of 2011, where she double majored in journalism with a concentration in public relations and English.
She graduated magna cum laude in the spring of 2014. While at CMU, Karie joined Phi Sigma Pi National Honor Fraternity and served as the PR/Rush Chair. She worked for CMU's Career Services as a mock interviewer, as well as a student tutor. She was also a member of the National Society of Leadership and Success, and the National Society of Collegiate Scholars. She continued to work as a cosmetologist part-time, and interned for former Senator Roger Kahn in the Michigan Senate and for the Alex Harrison Memorial Foundation.
After receiving her degree, Karie accepted a job as the communications coordinator for the Maryland Center for Construction Education and Innovation, a nonprofit based in Baltimore, Maryland, focusing on expanding skilled trades education and opportunities.
After a while, Karie missed the beauty of Northern Michigan and returned up north to her hometown.
Karie joined the 9&10 News team in Dec. 2014 as a web producer. From there, she worked her way up to executive web producer before settling into her current position as director of digital operations.
Karie also makes a weekly appearance on their news & lifestyle show, the four, bringing Northern Michigan the latest tech news every Tuesday.
During her time at 9&10, Karie has been involved in launching the hyper-local GTPulse column, creating the 2018 election center on the station's website, and covering some of 9&10's biggest events from the field on all of the company's digital platforms. Karie's work has been recognized by the Michigan Association of Broadcasters and the Michigan Associated Press.
Karie's dad, Patrick, is a Purple Heart veteran of the Vietnam War. Her mother, Judith, works as an administrative assistant for Cadillac Area Public Schools, and her older sister, Kellie, is a nurse practitioner who recently welcomed a beautiful baby girl to the world.
Karie lives in Tustin with her boyfriend of five years, Chris, their cat named Faramir, and two dogs. She's an avid rock hound who enjoys hand-polishing Petoskey stones. At nights, you'll find Karie outside exploring the night sky with her telescope. She's an amateur photographer and woodworker.