One of the benefits of a Michigan Association of Broadcasters Membership is the ability to take advantage of free programs to help you and your station:
The MAB coordinates regular meetings between Michigan broadcast industry leaders, state and federal lawmakers in their home districts.
The Association also monitors legislation that could impact MAB members, effectively lobbying when necessary to make certain that the views of broadcasters are considered by Michigan legislators and by members of Congress. We also support the government relations activities of the National Association of Broadcasters (NAB.)
The Legal Hotline features renowned Washington, D.C. based FCC attorney David Oxenford, who can answer your questions regarding FCC matters. 
Oxenford represents broadcasting and digital media companies in connection with regulatory, transactional and intellectual property issues. He has represented broadcasters before the Federal Communications Commission, the courts and other government agencies for almost 30 years. He regularly counsels clients on all aspects of broadcast law including the rules dealing with political broadcasting, multiple ownership, noncommercial broadcasting, technical operations and various aspects of content regulation. He also negotiates purchase and sale agreements and other types of broadcast transactions. In addition to representing broadcasters, he works with many others involved in the industry, including broadcast associations, brokers, bankers, private equity funds, programming consultants, and technology companies.
David also represents digital media companies, including a number of Internet radio companies. He represents these companies before the Copyright Office, the Copyright Royalty Board, and other government agencies, and he advises them on music royalty issues as well as other general business and regulatory matters. David is a partner in the law firm Wilkinson Barker Knauer, LLP
And, for matters here in Michigan, the MAB provides the resources of John J. Ronayne III of Bernardi, Ronayne & Glusac.  
A Detroit native, Ronayne, has 36+ years of practice in Attorney, Media Law, State and Local Taxation Law, Corporate Law, Arbitration. John J. Ronayne, III is currently associated with law firm Bernardi, Ronayne & Glusac, P.C..
Alternative Broadcast Inspection Program
In collaboration with the FCC, the MAB offers the Alternative Broadcast Inspection Program (ABIP) to ensure compliance with federal regulations and to avoid surprise inspections. ABIP certifications are conducted by knowledgeable experts who review technical and regulatory requirements. Stations that pass the inspection receive a three-year Certification of Compliance, and all participants receive an FCC compliance checklist and an Emergency Alert System manual.
While ABIPs are available to any licensed broadcaster within the State of Michigan, MAB members can receive a substantial discount on their inspection and receive that important Certificate of Compliance.
Non-Commercial Sustaining Announcement (NCSA) program
The Non-Commercial Sustaining Announcement (NCSA) program has been aired by the Michigan Broadcasting industry for more than 29 years. It is important to the state, its citizens, and to all Michigan broadcasters.
NCSA is recognized by the FCC. The MAB logo or I.D. must never be clipped from a message, and the inclusion of the logo for TV and audio messages "sponsored by (partner) and Michigan Association of Broadcasters" is required by the FCC.
Non-profit organizations provide grants to the MAB for the statewide distribution of their audio and video messages, as well as detailed reporting of airtime donated by MAB member stations.
Member participation in the NCSA program provides quality services and benefits to our members, such as low-cost training seminars and valuable networking opportunities. Grant funds received from the NCSA program help to provide services such as regulation workshops, communications, public relations programs, and free legal services.
Equal Employment Opportunity Compliance
The MAB organizes Career Fairs throughout the year to assist stations with meeting compliance requirements and we maintain member Job Postings here.
To help with compliance with the FCC's EEO rules, the MAB is happy to provide members a copy of "The FCCs Equal Employment Opportunity Rules and Policies – A Guide for Broadcasters" from the law firm of Pillsbury Winthrop Shaw Pittman LLP.
The MAB has arranged with Enstar Energy to provide energy audits for its members.  Did you know that virtually all MAB members are eligible for an exemption on sales tax on energy?  MAB members that have participated in this program have received, on average, $4,800 up to $40,000 in refunded taxes from their utility companies. Plus, they save about $1,200 annually at no cost and little to no effort on their part.
Volunteer for MAB & MABF Boards and Committees to network with bright and innovative industry leaders.
Local Broadcast Sales (LBS)
On-Demand Broadcast Training and Revenue Development.
Training Videos: More than 1,100 sessions featuring over 60 trainers –making LBS the industry's leading independent training service!
Advertiser Intelligence: Over 3,000 relevant marketing support materials and research items updated every day and arranged by the advertiser category!
Ask LBS: Live access to top industry minds when unique, and real sales challenges arise!
Sales Ideas: Sellers and managers can always use fresh, creative ideas for their clients!
2nd Tuesday Webinars: The broadcast industry's favorite webinars that focus on and provide street-ready skills!
To sign-up, call Eric Moore at Local Broadcast Sales
(317) 804-9440 or email ericmoore@localbroadcastsales.com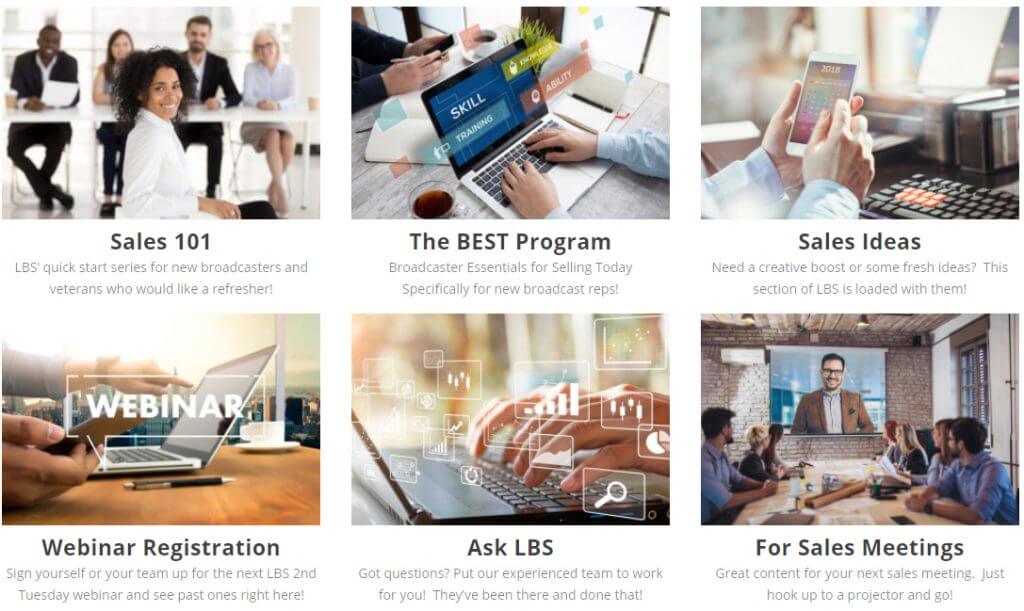 MAB and Michigan-based Jacobs Media Strategies collaborate to answer your questions regarding digital from websites to social media to apps and streaming.
Continuing Education Webinars
The MAB hosts monthly webinars on a variety of topics, including FCC and legal issues, promotions, sales, news and more.