The Charles D. Mefford Broadcasting Scholarship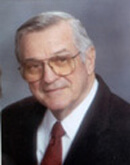 One $750 Scholarship Awarded
Chuck D. Mefford came to Lansing in 1964 from Madison, Wisconsin where he was associated with his partners at Metropolitan Radio Corporation since 1959.  In Lansing, Mefford acted as President, General Manager, and Owner of WITL-FM. It was a station he had nurtured to ratings success and then an AM/FM powerhouse affectionately called "Whittle" by legions of listeners and advertisers.
A scholarship given in his name was established by family and friends. This scholarship will be awarded to an individual whose desire it is to enter into radio or television broadcasting.
Scholarship applications are due at 5:00 pm EST on January 13, 2023
Applicants must have at least one semester of schooling remaining at their respective institution (no graduating seniors). Those applying should have an interest in broadcast and broadcast management and be enrolled at a Michigan college, university, or trade school.
Application includes:
Resume
Two letters of recommendation
Student ID number
Up to 500 word essay outlining career goals