COVID Didn't Stop WION's 'Treasures for Troops!'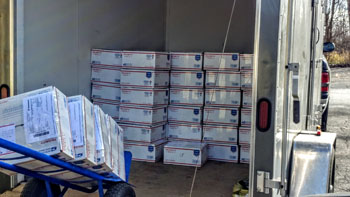 By: Jim Carlyle, co-owner/manager, WION
Despite the restrictions that the State of Michigan has imposed in the apparent effort to arrest the pandemic, a team of dedicated people still orchestrated WION's yearly "Treasures for Troops!"
WION Radio (Ionia) is proud to announce that with it's partners, WGLM in Greenville/Lakeview MI, WRWW-LP at Lowell High School, Young Chevrolet, Buick, GMC, The Muir Village Market, the Lowell Area Chamber of Commerce and all our donors, that a whopping 224 boxes are being sent from West-Central Michigan to deployed servicemen and women all over the world.
WION and it's partners had drop-off locations for troop needs in many area businesses, received 270 letters written to troops from Ionia High School students, hundreds of handmade cards from Saranac Community Elementary students and received thousands of items donated for the boxes to be sent to deployed U.S. military members.
Seven years ago, WION teamed with Blue Star Mothers chapter #188 of Ionia, Kent and Montcalm Counties to make "Treasures for Troops!" happen for the first time and it's a partnership that gets stronger each year. With special thanks this year to the Ionia Moose Lodge, space was made for item storage, and safe sorting and packaging of all the donations at their hall on East Lincoln in Ionia. Masked volunteers worked two days on the sorting, organizing and boxing for this year's Treasures for Troops culminating in 224 boxes being filled. Broadcasts were made from the Village Market of Muir, the Lowell Area Chamber of Commerce, and our transportation-provider and sponsor, Young Chevrolet, Buick, GMC.
All involved in this project agree, this year's efforts and result is spectacular when you factor in the issues many donors and businesses have faced! The Saranac Post Office once again is caring for our mailing of boxes with enthusiasm. From everyone involved in organizing, collecting, donating, advertising, and even writing of cards, letters, and notes, THANK YOU from WION Radio and all our partners in our 7th annual "Treasures for Troops!"