Latino Public Broadcasting and WKAR Present New Digital Short Film Series 'Latinos Are Essential'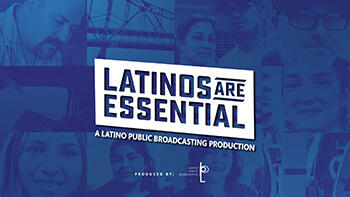 WKAR Public Media (East Lansing) is pleased to partner with Latino Public Broadcasting (LPB) on Latinos Are Essential, a campaign created to honor the work of the dedicated "essential workers" — health care providers, teachers, food service workers, retail clerks and others — who have kept our country going while caring for their own families.
"While this year has been devastating, it has also given us a chance to reflect on all the work that our community does to keep Americans safe, fed and comfortable," says Sandie Viquez Pedlow, LPB Executive Director.
As COVID-19 tore through our communities, LPB empowered emerging Latinx filmmakers by funding the production of a series of short films that chronicle the stories of Latinos during the pandemic. These films not only profile extraordinary people; they provide an invaluable snapshot of life during an unprecedented year in our nation's history.
"We wanted to honor these extraordinary people while also providing emerging Latinx filmmakers with work, empowering them to tell the stories of essential workers in their communities," said Pedlow.
The Latinos Are Essential films became available for streaming on Monday, November 16, on all station-branded PBS platforms, including the Latinos are Essential page on PBS.org. In addition, WKAR invites members and the public to contribute to the project by creating their own essential worker portraits and posting them on social media using the hashtags #Esenciales and #LatinosAreEssential.
"These short films provide a glimpse into the lives of people often unseen but so deserving of our recognition and gratitude," said Pedlow.
The public can watch the latest videos at video.wkar.org.