WXYZ Giving Away More than 10,000 Books to Children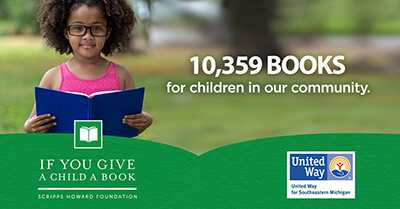 With donations this past summer from station employees and the community, plus a matching contribution from the Scripps Howard Foundation, WXYZ-TV/WMYD-TV (Detroit) was able to collect over 10,000 books for children that will be distributed beginning on January 19.
"I am so proud of the team at WXYZ-TV and TV20 Detroit, and our viewers, for opening up their hearts and their wallets for the children in our community," said Mike Murri, WXYZ-TV & WMYD-TV20 Detroit vice president and general manager. "This campaign, year after year, continues to put thousands of new, age-appropriate books into the hands of kids throughout metro Detroit."
In partnership with the United Way for Southeastern Michigan and Scholastic, WXYZ-TV is distributing the more than 10,000 books to a handful of partner schools in the metro Detroit area through various events and book drive-thrus.
The nationwide Scripps campaign resulted in more than 165,000 books that will be distributed, which will generate about 30,960,000 reading minutes.