SCOTUS Hears Broadcast Deregulation Arguments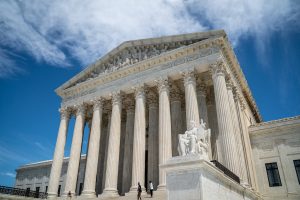 The FCC and National Association of Broadcasters made their virtual arguments to the Supreme Court Tuesday (1/19) on why a lower court was wrong to invalidate the FCC's 2017 broadcast ownership deregulation decision, a defense that came in the waning hours of the FCC's Republican majority, which had approved the rule changes over the objections of FCC Democrats, according to a report in Broadcasting+Cable.
On the other side, the attorney for consolidation opponents said the FCC had failed to do its statutory due diligence and the Third Circuit Court's decision was the correct measure.
While it's often hard to predict a cases' outcome based solely on the questioning of justices, former Disney and Fox executive Preston Padden tweeted, "After listening to FCC v Prometheus SCOTUS oral argument today on the Broadcast Ownership rules – my prediction is that the FCC wins at least 7-2 and that the long industry nightmare of the Third Circuit ends!" immediately following the arguments.
It is unclear when the Supreme Court will render a decision. Read the full Broadcasting+Cable report here.