WDET Launches Campaign to Purchase New Transmitter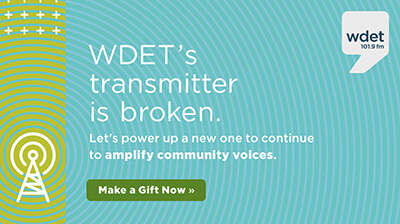 Wayne State University's WDET-FM (Detroit) has launched a campaign to raise the money required to replace its aging 21-year old main transmitter.  The transmitter failed in January and since then the station has been operating in its 34-year old backup transmitter and notes that it is also not working properly.  The station says some listeners hear a buzz during the broadcast which is from very old capacitors that are performing erratically in the very old back-up transmitter.  WDET lost the ability to broadcast in HD in 2012 and that was never restored.
WDET is replacing the exciter in its 21-year old main transmitter to return it to service, but the station has determined that it is time to retire the backup transmitter and get a new main transmitter – a costly endeavor but one that is essential to WDET remaining on the air and broadcasting with the strength and clarity that the community deserves.  A new transmitter will allow WDET to broadcast in HD again as well as broadcast community service programs such as DRIS, WDET's service to the visually impaired community.
A transmitter typically has a 15 – 20-year maximum lifespan. When radio stations get a new transmitter, they typically retire the old transmitter to a backup position.
WDET says they have been aware of this potential crisis and had budgeted for a down-payment on a new transmitter in 2020. COVID had other plans and those resources needed to be shifted to more immediate concerns.
The estimated price tag is $180,000.  To raise the money needed, WDET is seeking one-time emergency grants from foundations and corporations and asking listeners to help cover this urgent expenditure. As always, individual contributions are welcome to chipping away at this goal.
For more information, visit the WDET website here.