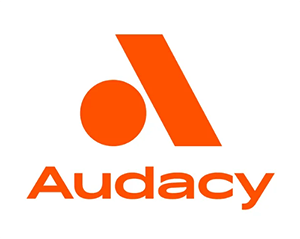 Entercom Communications Corp. announced March 30 that it is transitioning its brand name to Audacy, effective immediately.  Entercom operates 230 stations nationwide, including six in the Detroit market.
In a press release, the company writes:
Over the past three years, the company has purposefully evolved into a scaled, multi-platform audio content and entertainment organization with the country's best radio broadcasting group and a leadership position in virtually every segment of the dynamic and growing audio market—including broadcasting, podcasting, digital, network, live experiences, music, sports and news. Audacy is also the #1 creator of original, premium audio content.
"We have transformed into a fundamentally different and dramatically enhanced organization and so it is time to embrace a new name and brand identity which better reflects who we have become and our vision for the future," said David Field, Chairman, President and Chief Executive Officer, Audacy. "'Audacy' captures our dynamic creativity, outstanding content and innovative spirit as we aspire to build the country's best audio content and entertainment platform."
"This moment is not just a change of sign, but a sign of change. Our new brand encapsulates who we've become in audio and will guide our forward aspirations," said Paul Suchman, Chief Marketing Officer, Audacy. "We are bringing it to life across all touchpoints inside and outside the organization and look forward to delivering on its promise every day."
The company's ticker symbol will change from ETM to AUD effective on or about Friday, April 9, 2021. Along with the name Entercom, effective today, the company will also sunset the RADIO.COM brand and align its direct-to-consumer platform under Audacy. Cadence13, Pineapple Street Studios, BetQL and Podcorn remain market-facing brands.
Learn more at www.audacyinc.com or on the Audacy app, and follow Audacy for the latest news and events on Facebook (Audacy Corp) and Twitter (@AudacyCorp)