Flint's WFBE Returns Heritage Country Brand 'B95'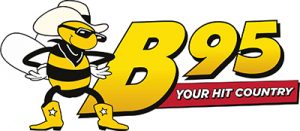 Cumulus Media has announced that Country radio station WFBE-FM (Flint) has rebranded as B95, Your Hit Country. The station, previously known as 95.1 Nash-FM, kicked off the next generation of Flint's best Country music, with a return to its popular heritage brand. The station also launched its new website at: https://www.wfbe95.com/.  The rebranding took place on April 1.
Chris Monk, Vice President/Market Manager, Cumulus Flint, said: "We're thrilled to re-establish this heritage brand in the Greater Flint area, kicking off today. This will not be a change to the music our listeners enjoy on the station, but simply a return to the much-loved B95 brand. Country fans can count on B95 to play more of the Country music they love!"
April Rose, Program Director, WFBE-FM, commented: "We are excited to bring B95 back to our loyal listeners, clients, and the community! B95 will allow us to give our fans their favorite Country music, with new opportunities to win prizes, and we are pleased that our mascot Buzz Bee will be reintroduced to a new generation of fans! Beginning today, B95, Your Hit Country will be heard on 95.1 FM on your radio, office computer, phone and smart speaker."
The "B95" Country brand launched in October 1997 after the station was sold by the Flint Board of Education and dropped its non-commercial programming. It then became one of Cumulus' first "Nash-FM" properties in February 2014.