Schumer's Senate Democrats Split Over Marijuana Legalization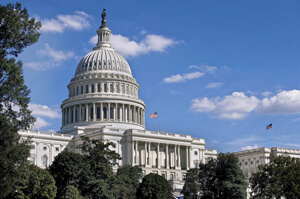 Senate Majority Leader Chuck Schumer's biggest challenge to legalizing marijuana may be his fellow Democrats, according to a recent article in POLITICO. The New York Democrat has repeatedly promised a vote on cannabis reform, even without the backing of President Joe Biden.
He repeated that vow in a Senate floor speech on Tuesday.
"Hopefully the next time this unofficial holiday 4/20 rolls around, our country will have made progress in addressing the massive over-criminalization of marijuana in a meaningful and comprehensive way," Schumer said.
But Schumer currently does not have enough votes from his own party to pass cannabis reform, let alone the 10 or more Republicans who would be necessary to reach 60 — the threshold needed to bypass a likely filibuster. If a cannabis vote was held in the Senate tomorrow, the bill would certainly fail.
"I don't support legalizing marijuana," Sen. Jeanne Shaheen of New Hampshire said told POLITICO. "We're in the middle of an opioid epidemic, and the research that I've seen suggests that that is a way that more people get into drugs."
And Sen. Jon Tester of Montana was similarly unenthusiastic about ending federal marijuana penalties, saying legalization would "cause more problems than it solves."
Schumer can't afford to lose a single vote on his side of the aisle in his legalization push. If he can't secure a path to Senate passage this year, with a midterm election that's historically not been kind to the president's party looming, it could mean a long delay before pot is legal in the United States — even as 18 states have embraced full legalization.
The House has taken steps to reflect the emerging consensus on legalization. In December, it passed a bill to remove federal penalties on cannabis. But the Senate is yet to even consider a similar bill in committee.
The House bill was fully supported by Michigan's seven Democrat representatives along with former Independent Rep. Justin Amash. The state Republican delegation voted against that bill and Rep. Paul Mitchell did not cast a vote. Michigan Senators Debbie Stabenow and Gary Peters have voiced their support for cannabis reform in the past.