WLUC's Steve Asplund Announces Retirement; Andrew LaCombe Named Next News Director
Veteran WLUC-TV (Marquette) News Anchor Steve Asplund has announced that he will retire in February 2022 after more than 42 years at the station.  WLUC Vice President and General Manger Rick Rhoades recently made the announcement.
"Steve has served this station and this community for over 40 years," Rhoades said. "No one is more trusted with news and information in our market than Steve Asplund. He is the reason why our news department has been extremely successful for so many years. His career has spanned four decades and is Hall of Fame worthy! Steve is TV6 and Upper Michigan!"
Asplund is a Brookfield, Wisconsin native (a suburb of Milwaukee) and arrived at WLUC on June 18, 1979. He has worn many hats in the newsroom including videographer; assignment editor; reporter; producer; news, sports and weather anchor; Assistant News Director and News Director.
He started as a reporter. Then co-anchored the 6:00 p.m. and 11:00 p.m. newscasts, which at that time also involved doing the weather using two static maps. In the early 1980s, Asplund started the TV6 Assignment Desk which has evolved into the heart of the newsroom. He became the Assignment Editor and was responsible for coordinating the gathering of the daily news by reporters and producers. In the fall of 1985, TV6 transitioned to co-anchoring the TV6 Early News and he returned to the anchor desk. At this time, he would also solo anchor the TV6 Late News. Then in the early 1990s, Asplund became News Director while continuing to anchor the TV6 Early News. Later in the '90s, he went back to Assistant News Director. In early January 2014, Asplund became the News Director.
His work at the station also included numerous co-hosting assignments which included the March of Dimes Telethon, Easter Seals Telethon, Muscular Dystrophy Telethon and the annual TV6 Canathon. Asplund and the TV6 Newsroom have been honored with numerous awards from the Michigan Associated Press and the Michigan Association of Broadcasters over the years. His awards include Best Newscast, Best Anchor, and Best Feature reporter. He was a board member of the Michigan Associated Press for more than 20 years, and a member of the Radio Television Digital News Association (RTDNA).
To allow a smooth transition in leadership, WLUC GM Rhoades will be making some personnel changes in the TV6 Newsroom.
"Steve will move into a new role on April 26 as Senior Content Editor and Anchor/Producer. His passion is anchoring and producing, and we want to make his final year with the station a stress-free and enjoyable year. He will also be helping our new news director transition into the role.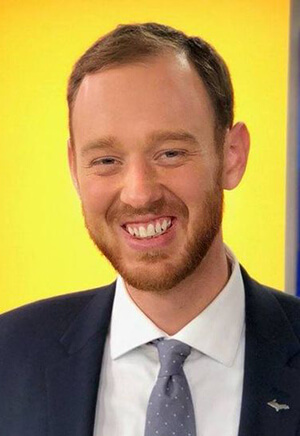 Concurrent with the announcement of  Asplund's retirement, the station announced that Andrew LaCombe has been named their next News Director. "I cannot think of anyone better to fill the giant shoes of Steve Asplund as News Director than Andrew," GM Rick Rhoades said. "The U.P. is home to Andrew, and we are excited for him to take on this new role and lead our news team into the future. He possesses some of the best news instincts I've ever seen and his connections to the community make this decision a no-brainer. We are excited to have Andrew lead our news team with his vision in a quickly evolving news industry. Congratulations Andrew!"
Born and raised in Marquette, LaCombe grew up watching WLUC. LaCombe's aunt worked at the station and would bring him to visit and meet the news team. This helped ignite his passion for television news. As a youth, LaCombe participated in 8-18 Media, a program of the Upper Peninsula Children's Museum. This gave him valuable leadership and journalism experience. LaCombe is still active with the Children's Museum as vice president of its board of trustees.
He graduated from Lawrence University in Appleton, Wisconsin, with a Bachelor of Music degree in cello performance and a minor in government. While in college, LaCombe interned at NBC 26 in Green Bay.
LaCombe was a reporter and producer for the station's Morning News from May 2012 until Aug. 2013. He then became a political and investigative reporter at FOX 11 News in Green Bay. At FOX 11, LaCombe covered Wisconsin politics and elections. In the 2016 election cycle, he interviewed Donald Trump, Mike Pence, Tim Kaine and Bernie Sanders.
LaCombe rejoined WLUC team in January 2017 as a co-anchor for the TV6 Morning News. He was named the Assistant News Director in April 2018. At TV6, highlights have included covering Al Roker's visit to NMU, including being surprised by Roker on live TV, and spending a week with the U.S. Navy in Norfolk, Virginia, which included landing on an aircraft carrier. LaCombe has won multiple awards from the Michigan Association of Broadcasters.
"In the last year, we've seen that local news remains a vital part of a community," LaCombe said. "It's an honor and privilege to have the responsibility of informing the people of Upper Michigan on many platforms. I have had the opportunity to learn from some incredible people at TV6, and I am so excited to take on this new role and continue to work with Steve Asplund as he transitions to retirement. I love what I get to do each day at TV6. It will be a big change to not be on-air regularly, but I will continue to contribute to our daily reporting."
LaCombe will transition to his behind the scenes role as News Director after co-anchoring his final TV6 Morning News program on Monday, April 26, 2021.