Bobby Bones Comes to McKibbin Media Group Stations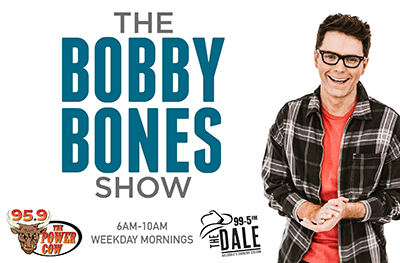 McKibbin Media Group has announced the addition of the syndicated Bobby Bones Show to country-formatted stations in Jackson and Hillsdale.  The Bobby Bones Show will hit the airwaves beginning on Monday, May 3 from 6 a.m. – 10 a.m. each weekday on McKibbin Media Group's iconic country music stations, 95.9 FM The Power Cow in Jackson and 99.5 FM The Dale in Hillsdale. Both stations will also carry Bobby's weekend countdown show on Saturdays (9 a.m. – 1 p.m. in Jackson and 6 a.m.-10 a.m. in Hillsdale).
"Adding The Bobby Bones Show to our already great lineup of programming in both Jackson and Hillsdale will be exciting for our local listening community," Katina McKibbin, President and Owner of McKibbin Media Group said. "Bobby has a national brand that our listeners will love. He brings a lot of excitement and engagement to his show. It will be fun to listen to."
The Bobby Bones Show, a Premiere Networks syndicate, consists of radio personalities Bobby Bones, Amy, Eddie, Lunchbox and Ray – a high-energy cast who not only keep their listeners on their toes, but also make it their mission to be involved in impactful philanthropy projects.
The program was honored with its second CMA Award for "National On-Air Personality of the Year" in 2019 following a third ACM Award in 2018 in the same category. The program was also honored with the Country Radio Seminar/Country Aircheck Award in the National/Syndicated Personality/Show category in 2018. The previous year, Bones was the youngest personality to be elected to the National Radio Hall of Fame.
In April 2018, Bones made his debut on ABC TV's American Idol as a mentor for the top 24 contestants. In 2018, Bones also competed on Season 27 of Dancing with the Stars, taking home the coveted mirror ball trophy with partner Sharna Burgess.
Bobby also is a New York Times Best Selling Author for both of his books "Bare Bones: I'm Not Lonely If You're Reading This Book" and "Fail Until You Don't: Fight. Grind. Repeat."
The Bobby Bones Show will debut on 95.9 The Power Cow Monday, May 3rd, 2021 at 6:00am EST and can be heard at 95.9 FM in Jackson, 99.5 FM in Hillsdale, online at 959thepowercow.com, or on the free "95.9 The Power Cow" mobile app for both Apple and Android devices.
95.9 The Power Cow, established in 2015, appeals to a wide demographic in Jackson County by playing a well-balanced mix of the latest country hits, country/pop crossovers and a sprinkling of the top throwback hits in the genre; expertly selected by program director Steven Boyle. Boyle, who has also been the host of "Country & Coffee with Captain Steve" weekday mornings since the station's inception, will move to the 10 a.m. to 2 p.m. time slot, while longtime midday host Greg Green will deejay 40 minutes of nonstop music from 2 p.m. to 7 p.m. weekdays. 99-5 The Dale was launched in 2019 as a passion project by the late owner of McKibbin Media Group, Jamie McKibbin, and shares much of the same programming as its sister station in Jackson.