Sales Tips From the MAB's Sales and Leadership Helpline with Mark Levy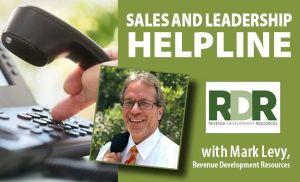 Q: Mark, our car dealers don't have cars and have been cancelling. What can we do?
Mark: Take a step back and remember that most dealerships make most of their money in service. Now, if you are like me, you HATE to wait on anything that is being taken to a repair shop. That could be a good reason to go to a dealership and suggest… 24 hour service. Is it for every dealer? No, but somebody is probably wanting to capture as much of the service market as they can and might be willing to try something "the other dealers won't." And if they do this, they may need a recruitment campaign for 2nd and 3rd shift prime mechanics!
Q: Mark, the regional person / agency for X doesn't want to buy us. What can we do?
Mark: If you haven't made contact at the local level, you need to fix that asap. See if you can get some / several / at least a couple of the key people from the local outlet(s) to let you do a quick cell phone video saying they think being on your station would help them get to their corporate sales goals. Will it always work? No but from personal experience, it works more than you might think it will!
The Sales and Leadership Helpline is a free service of the MAB to help members as they continue to help their clients rebuild their business.
Call or email your questions and sales issues to Mark Levy at 972-522-8570 or mark@rdrtoday.com.