Senator Looks to Add Local Journalism Tax Breaks, Grants to Infrastructure Proposals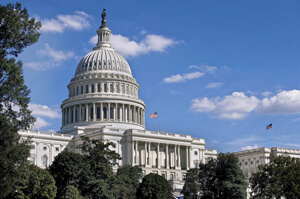 Local journalism needs to be part of President Biden's call for investment in national infrastructure, Sen. Maria Cantwell (D-WA) told the NAB State Leadership Conference this week. According to a report in InsideRadio, she plans to introduce legislation that would make as much as $2.3 billion in tax credits and grants available over the next two to three years to help radio, television and newspaper newsrooms.
"America's radio and television broadcasters are essential to our landscape and it has been critical to many Americans' way of life and connecting communities," Cantwell said. "We want to make sure that these towns and cities continue to have the critical information that they deserve and that we continue to have a very competitive marketplace."
Although Senate Majority Leader Chuck Schumer (D-NY) and House Speaker Nancy Pelosi (D-CA) are said to be onboard with the idea, Republicans have expressed discomfort with the size of the Biden administration's infrastructure proposal and Cantwell recognized that the chances of getting broadcasting into an infrastructure bill are "not as high" as things like roads or bridges. Still, she believes she could get buy-in from GOP lawmakers by promoting it as a means to make America competitive.
NAB President Gordon Smith said Cantwell has become one of broadcaster's "biggest champions" in Congress – after the industry went from fighting her bill to expand low-power FM to striking a compromise more than a decade ago – and that the NAB is "extremely grateful" for her work to protect the critical journalism local broadcasters provide. He said the NAB "strongly supports" the findings of her report that found the power of a handful of digital platforms has dominated the marketplace and put local media like radio at a "serious disadvantage."
Senators Amy Klobuchar (D-MN) and John Kennedy (R-LA) have introduced a bill that would create an exemption from antitrust laws for broadcasters to negotiate collectively with the tech giants during a four-year period.
Cantwell – who chairs the Senate Commerce Committee, which includes Sen. Gary Peters (D-MI) – said she will hold a series of hearings in the coming weeks on that proposal as well as others tied to the overall state of broadcasting.