Michigan Literacy Crisis Explored in New Documentary from WKAR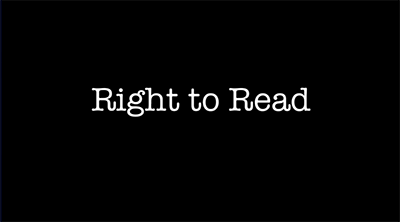 WKAR Public Media (East Lansing) has debuted a new documentary, Right to Read, which presents the moving story of Michigan families attempting to secure the right to read for their children.  Faced with challenging circumstances — like social inequity, Michigan's Read by Grade Three law, and limited access to books — parents, educators and experts weigh in on how to solve the literacy crisis in Michigan. Their goal?  To encourage the joy of reading and promote childhood literacy at home.
Right to Read premiered June 3 and will air 7 more times through early July.
"The documentary gives us an intimate view into the difficult work families are faced with accessing reading proficiency for their children," said Robin Pizzo, WKAR director of education. "The state is experiencing huge gaps in literacy, causing a decrease in achievement across the system — but there are solutions and Right to Read places a spotlight on them."
Among those offering their views during the documentary are Dorinda Carter, professor and chairperson in the department of teacher education at Michigan State University; Rep. Amanda Price, former representative from Holland, Mich.; LaDonna Mask, principal at Kendon Elementary School in Lansing, Mich.; and parents from across the mid-Michigan community.
Production of the documentary took place through the COVID-19 pandemic, following all health and safety protocols and restrictions. Interviews with those appearing in the film were conducted remotely, and some scenes were recorded by the program participants.
"Childhood literacy in mid-Michigan receives very little media attention," said Nicole Zaremba, WKAR producer and director of the documentary. "It's my hope that, after viewing the documentary, we continue to collaborate and create solutions to this crisis as a community and ask ourselves what we can do to better serve our children."
Earlier this month, the mid-Michigan community was treated to a preview screening of the film, including a live Q and A session moderated by Pizzo with panelists Patricia Edwards, professor in the department of teacher education at Michigan State University; Michelle Nicholson, director of Early Childhood Services for Ingham Intermediate School District; and Michael Rice, state superintendent. That discussion is available for online viewing along with the film.
"We want to be 100% literate in this state, and I think the video helps us get there," said Michael Rice, state superintendent, during the panel discussion following the preview of the film. "Wouldn't that be an enormous accomplishment? Not simply from a pedagogical perspective, from a social justice perspective, but from an economic perspective as well."
Right to Read has been offered to public broadcasting stations throughout Michigan and nationwide via the National Educational Telecommunications Association. See the trailer below: