House Members Target Local Radio Stations with Bill to Impose Performance Royalties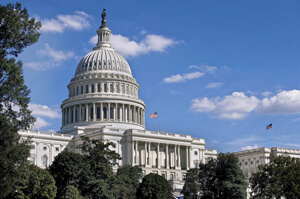 Supporters of a performance right on radio airplay moved to change federal copyright law with the newly proposed American Music Freedom Act, which was introduced Thursday (6/24) by U.S. Reps Tef Deytch (D-FL) and Darrell Issa (R-CA).
Details of the bill were still forthcoming, according to a report in InsideRadio, but like a previous attempt introduced during the precious Congressional session, it would give copyright owners the authority to require stations to obtain their consent to use sound recordings.
Broadcasters have already been working to block passage of any such bill. National lobbying efforts have brought on 138 House members and 18 Senators  to sign their names to the nonbinding Local Radio Freedom Act (H.Con.Res.33), opposing any changes to copyright law that would impose any new performance fees for the use of sound recordings on over-the-air radio.
"NAB strongly opposes the American Music Fairness Act or any imposition of a performance royalty on America's local radio stations. For decades, broadcast radio has enjoyed a mutually beneficial relationship with the music industry, launching and sustaining the careers of countless artists, promoting album sales and streams and helping to foster a robust music-creation environment that is the envy of the world," NAB President and CEO Gordon Smith.
"We thank the 138 Representatives and 18 Senators who are currently cosponsoring the Local Radio Freedom Act, which acknowledges the long-standing connection between radio and the music industry as well as the tremendous service hometown radio provides to local communities every day.
"Broadcasters remain open to working with the record labels to reach a comprehensive and reasonable solution to this issue that reflects the incredible value provided by local radio to musicians, labels and our millions of listeners over-the-air and online. It is unfortunate that the record industry refuses to have those discussions."
U.S. Reps. Jack Bergman (R-1), Fred Upton (R-6), Tim Walberg (R-MI) and Debbie Dingell (D-12) of Michigan's Congressional delegation have already added their names to the Local Radio Freedom Act.