Regional Emmy Winners Announced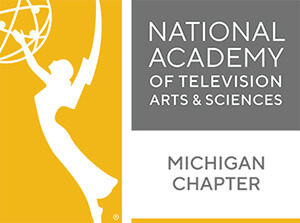 On June 19, the National Academy of Television Arts and Sciences (NATAS)/Michigan presented the 43rd Annual Regional EMMY® Awards. The ceremonies were held virtually.
Public stations winning in various categories include WCMU-TV, WKAR-TV and WTVS-TV.  Commercial stations receiving awards in various categories include WDIV-TV, WEYI-TV, WJBK-TV, WJRT-TV, WNEM-TV, WOOD-TV, WWTV/WWUP-TV, WXMI-TV, WXYZ-TV and WZZM-TV.
Three stations, WDIV-TV, WJBK-TV and WXYZ-TV, won an award together for "The Governor's COVID Town Hall."  The program aired statewide on both public and commercial stations on April 2, 2020 in partnership with the Michigan Association of Broadcasters and the Michigan Association of Public Broadcasters.
For a complete list of this year's EMMY® winners, click here.  Watch the entire awards ceremony below: