WKHM-FM Chooses Local Charities to Benefit From 13-hour Radiothon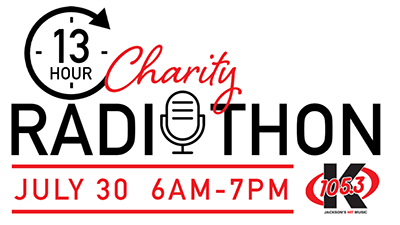 McKibbin Media Group's WKHM-FM (K105.3) (Jackson) has set its second annual Charity Radiothon for Friday, July 30th, 2021. The on-air talent of K105.3, Jared "J-Rod" Hammond, Scott Clow, and Jenny Lewis will be broadcasting live from the K105.3 studio for 13 hours to accept donations and completing crazy dares from their listeners based on fundraising goals.
Each year McKibbin Media Group selects local charities based upon nominations from employees to split the total funds collected during this event. In 2020, over $12,000 was collected during our first ever Charity Radiothon. Soar Café & Farms, Andy's Angels, the Jackson Autism Support Network, and the JDRF One Walk of Jackson were the recipients of these funds.
K105.3 has set a goal of $13,000 for this year and is pleased to announce that the following charities will benefit from this fundraiser:
Greater Jackson Habitat for Humanity
Special Olympics of Michigan
Compassionate Ministries of Jackson County