Michigan House Approves Final End of Emergency Powers of the Governor Act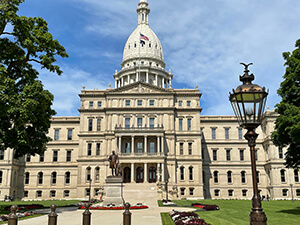 The Michigan House voted on Wednesday (7/21) to approve a citizen initiative by Unlock Michigan to entirely remove the 1945 law, which Gov. Gretchen Whitmer used to make controversial COVID-19 orders in the early months of the coronavirus pandemic.
The Michigan Senate approved the initiative last week. Because the measure came to lawmakers as a citizen petition drive, Whitmer has no recourse to veto the measure repealing the Emergency Powers of the Governor Act.
Republicans long have complained that Whitmer used the law to keep them from key decisions during the coronavirus pandemic and acted autonomously with orders that had a broad economic impact.  The Michigan Supreme Court ruled the law constitutional on Oct. 2, 2020, which was the same day Unlock Michigan turned in its petitions to the Michigan Secretary of State's Office. Critics were concerned the Supreme Court could reverse its ruling and reinstate the law, so they moved forward with the initiative process.
Despite the Emergency Powers of the Governor Act being repealed, the Michigan Department of Health and Human Services retains authority to make public health orders with the separate Public Health Code. That law was not affected by the Supreme Court ruling or repeal of the 1945 law.